Since the start of the year, ESA has been seeing clients, agency partners, and fellow colleagues at two major conferences focused on what should become a major source of clean, renewable energy for the nation's western states: offshore wind power.
At both the Northwest Offshore Wind Conference in Portland, Oregon, and the Pacific Offshore Wind Summit we sponsored in Sacramento, the excitement and optimism around offshore wind was palpable, yet this technology is still in the beginning stages of moving forward.
The good news is that preparation is in motion and generating offshore wind power is widely supported by federal, state, and local governments. Political leaders have vowed their commitment. In California, for example, the objective is ambitious and clear—generate 25 gigawatts (GW) of offshore wind power by 2045.
Here are some of the key themes of the discussion around offshore wind on the West Coast.
Huge Turbines Mean Big Port and Transmission Infrastructure Upgrades
When it comes to harnessing wind power, the bigger the turbine, the better. Putting giant turbines in place in deep water far from shore will require that they be assembled on land and towed into place. This, in turn, will require, at an early stage, major redevelopment and upgrades to the ports to support assembly and construction in this industry. This means not just the relevant wharfage, but assembly yards, wet berths, warehousing, manufacturing capacity, and facilities of every kind—housing included—to meet the needs of the new industry's large workforce.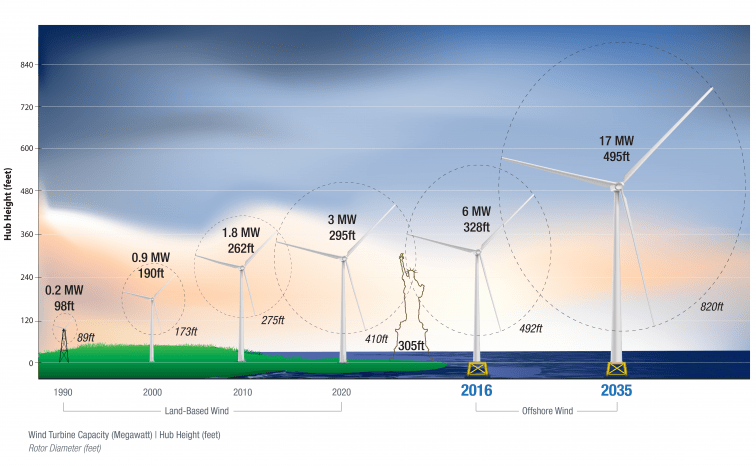 Offshore wind turbine heights and blade lengths are getting taller and longer. Source: Office of Energy Efficiency & Renewable Energy.
When it comes to harnessing offshore wind power, large turbines with strong structures are needed to withstand harsh ocean conditions to produce power. Moreover, the rigs will be sited far from shore in water over half a mile deep due to the sheer continental shelf along the coast, meaning that the platforms must be floating, rather than anchored to the ocean floor. Designed to produce 15 megawatts (MW), these turbines will require undersea cables and landing sites to connect with the onshore electrical grid, which will also need major upgrades and new development to bring this power to shore and into use.
This level of development will require an issuance of 80 or more permits for the entire array of offshore wind turbines, which could result in modernization of the current permitting process to meet that 2045 completion target.
Major Project Funding and Staffing Needs to Meet Deadline
In addition to the major investments offshore wind developers have put into the five California lease areas in December 2022, totaling $757.1 billion in high bids, the overall price tag is still yet to be determined. The federal government's Infrastructure Investment and Jobs Act and the Build Back Better Bill offer billions in funding to push the necessary infrastructure needs, and the California Energy Commission has millions more set aside for this effort, too.
With the large scope of work and effort needed, agencies are feeling the squeeze to get adequately staffed, especially in consideration of the need to engage tribal and neighboring communities and other interested parties throughout the process. Bringing offshore wind in California to commercial operational scale will require all agencies and stakeholders to closely work together.
California's 25 GW by 2045 goal is a tight timeline, with the first lease sales set to achieve 4.5 GW of energy, less than a fifth of that overall 25 GW target.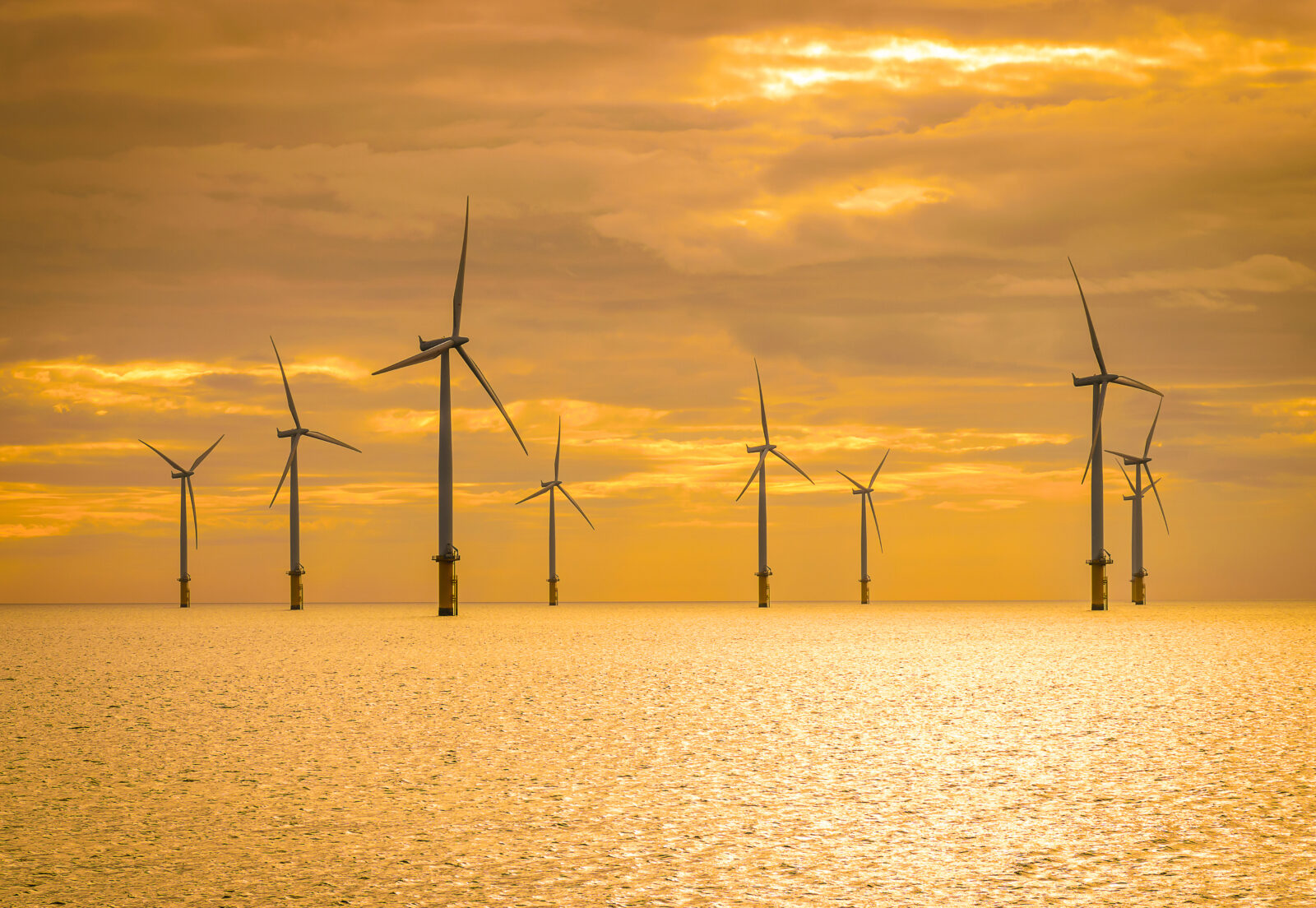 Despite the Long Haul, Progress Continues
State and federal governments are working to stimulate projects by, for example, working on tax incentives and permitting modernization. In California, Assembly Bill 525 (enacted in 2022) requires the California Energy Commission (CEC) to coordinate with all state agencies and the federal Bureau of Ocean Energy Management (BOEM) to develop a streamlined approach, plan, and process for offshore wind production. CEC published a draft offshore strategic plan/wind permitting road map in April 2023. The next draft is due by June 30, 2023, when it is to be submitted to the California Natural Resources Agency and the California State Legisature.
The California State Lands Commission has recommended mirroring the process successfully used in developing the Desert Renewable Energy Conservation Plan (DRECP)—and ESA has a deep understanding of its unique terms and conditions in regard to planning, review, and development. With a long history of collaboration with other state agencies, the State Lands Commission has indicated it would welcome serving as the lead agency for the California Environmental Quality Act (CEQA) document for offshore wind.
The Commission is already leading the development of the document for CADEMO, a 60 MW, deep-water, floating, four wind-turbine demonstration project off the coast of Santa Barbara County. ESA, as a part of ICF's team, will be providing environmental consulting and permitting services for this first-ever offshore wind project in California.
ESA has been expertly navigating the California regulatory process since 1969. Our relationships with the agencies along the coasts of California, Oregon, and Washington and our experts in coastal and energy permitting offer benefits to developer and agency entities that will inevitably be deeply involved in Pacific offshore wind. We're energized by our time at the recent conferences and are ready to dive in—from coastal permitting for offshore wind generation to grid transformation and port development.
For more information on ESA's offshore wind experience, view this brochure and contact our Energy Market Leader Sharon Niemczyk.