100% Employee-Owned
At ESA, we are all owners. What does that mean? It means that we are in this together and everyone's contributions matter. We are all accountable to ourselves—and each other— for keeping ESA growing and thriving. And it means that we share the benefits of our collective success. It's a win-win, and a tenet that shapes our culture, benefits our clients, and drives us forward.
What This Means for Our Employee-Owners
For 50 years we've guided integrated decision-making, developing innovative and workable solutions that inform development and restoration projects based on science, policy, and planning.
Open Book Management
We're committed to open-book management, regularly briefing employee-owners on company performance, strategic objectives, and business planning.
Everyone Takes Responsibility
With ownership comes responsibility. We expect everyone at ESA to look at their role from the perspective of an owner to ensure the firm's long-term success and sustainability.
Everyone Has a Voice
Employee-owners are encouraged to participate in open forums and to speak up about how the company goes about its daily business. Even more, employee-owners are encouraged to exercise their 'entrepreneurial' spirit and take action to continually improve how we are run, how we deliver for our clients, and the quality and value of our work.
Build Equity Beyond Your Paycheck
As shareholders, everything we work for comes back to us. Unlike publicly traded companies or closely held firms, our profits flow directly back to each employee-owner, allowing them to build equity for themselves, their families, and their future.
What's an ESOP?
An ESOP, or employee stock ownership program, is the formal vehicle through which ESA shares equity amongst employee-owners at the firm. It is a qualified retirement account that allows each of us to build wealth over time as shares of ESA stock are allocated to staff each year. Upon departure or retirement, an employee-owner is paid out based on the current stock value, and their shares are redistributed back into the program. ESA's share price is set annually by an independent appraisal firm, based in large part on the performance of the company. Depending on the annual financial performance of the firm, we all have the potential to get more shares of stock each year and to have the value of each share increase.
Benefit to:
Work Directly with a Company Owner
At an employee-owned firm, there's no buffer between clients and those running the company—every employee has the mindset of an owner, putting client service first and standing behind the work that they do.
At left: ESA took a few client-partners to experience the California Delta in a new way: rowing!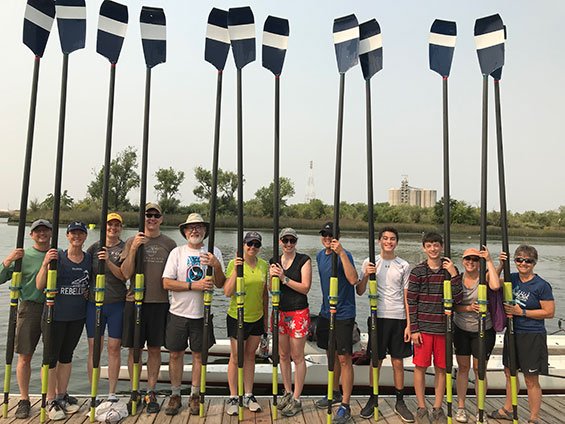 Improving Where We Work and Live
As consultants we seek out work, but as employee-owners we are empowered to hone in on projects that are meaningful to us, so we can positively impact the communities in which we work and live.
At left: ESA Archaeologist, Michael Newland, volunteers his time to recover cremains lost in California's 2018 wild fires.
Employees Are Investors and Investees
ESA employees are both investors and investees—this distinction attracts and retains employees who are focused on the long-term financial success of the company.
At left: Leslie Moulton-Post, ESA's CEO and President, addresses employee-owners.