As the private and public sectors work together to advance renewable energy production in the United States, we know there is much work to be done to achieve stated goals. For example, California has committed to reaching 100 percent renewable and zero-carbon electricity by 2045. To accomplish this, the acceleration of large-scale renewable energy projects is necessary.
From environmental review and permitting to design and construction, these projects are complex and, to be successful, require the involvement and collaboration of many parties. Read on for some tips and a case study that demonstrates how to ensure the smooth implementation of these projects while meeting environmental requirements.
Compliance Monitoring for Energy Projects
Renewable energy projects often span many thousands of acres and are constrained by various environmental factors, namely, biological and cultural resources. For example, thorough habitat studies are regularly conducted to detail the presence of any sensitive species and, in the same vein, sensitive cultural resources might be present at the project site. Thus, mitigation measures and permit conditions typically include the implementation of avoidance, pre-construction surveys, monitoring, treatment, and many other requirements to reduce project impacts to these sensitive resources. Compliance monitoring, tracking, and reporting are necessary to manage such resources, to ensure construction schedules are not delayed, and to report consistency with compliance requirements to agencies and other stakeholders.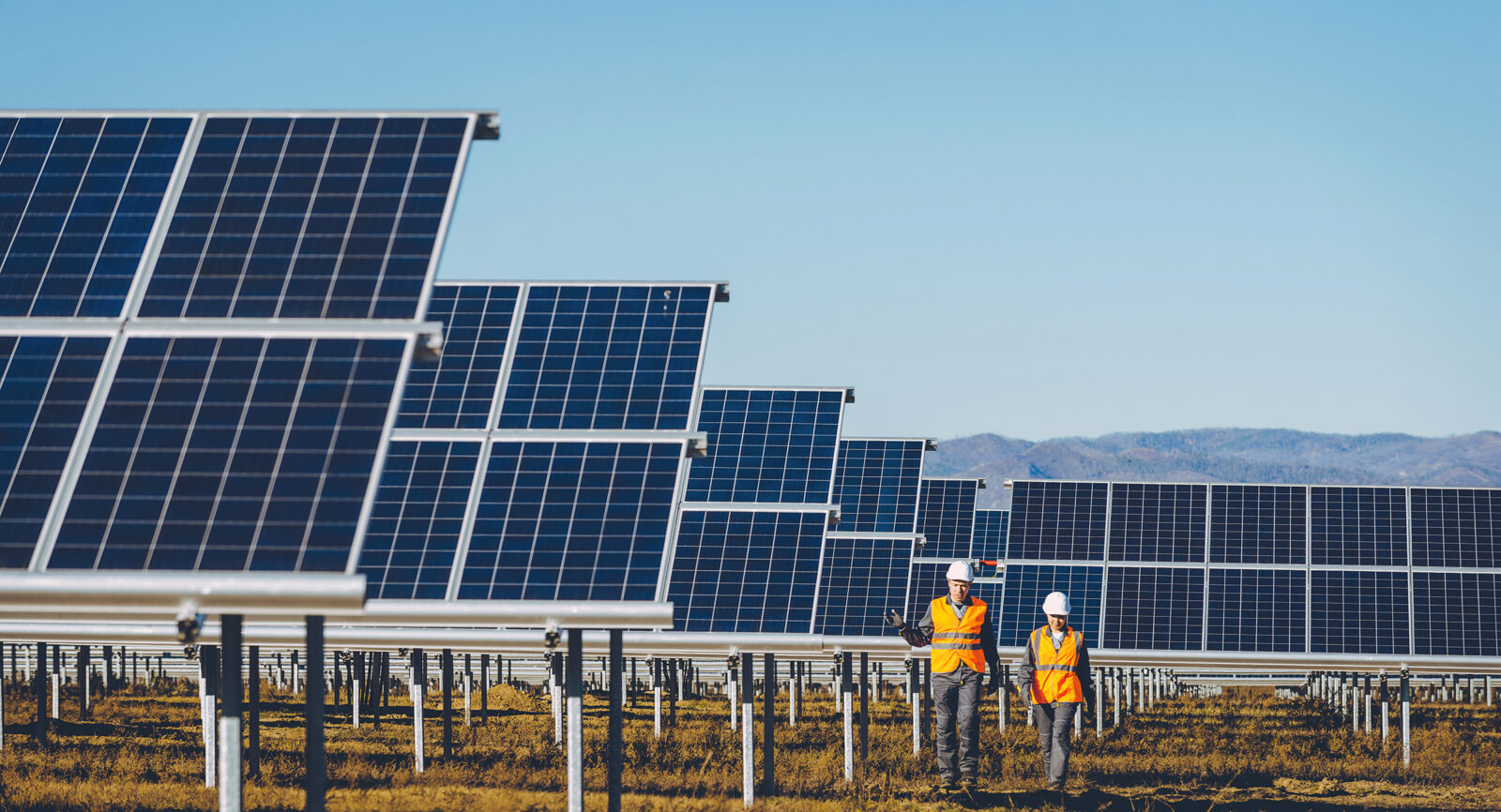 Engaging a strong environmental compliance team is paramount to the success of complex renewable energy project implementation.
Environmental compliance experts bring regulatory knowledge, resource expertise, site inspection capabilities, data management systems, and overall compliance programming that facilitates effective collaboration and the smooth completion of a project.
Communicate Widely, and Often
At ESA, we understand that although having the right technical and regulatory expertise is critical, the most fundamental quality of a successful environmental compliance team is a strong communication skill set. The multi-party, multi-jurisdictional, multi-stakeholder, and often logistically challenging nature of many renewable energy projects requires a communication approach that is proactive, collaborative, and prescribed, while also allowing for flexibility as needed. Each project team typically includes agency, developer, prime construction contractor, and sub-contractor representatives, all of whom must understand the project's environmental objectives. The party must also work together to ensure environmental requirements are met, coordinate construction schedule and activities, and resolve compliance issues.
Cultivating and maintaining relationships with key project team members at the field and management level is necessary to establish effective communication throughout the project.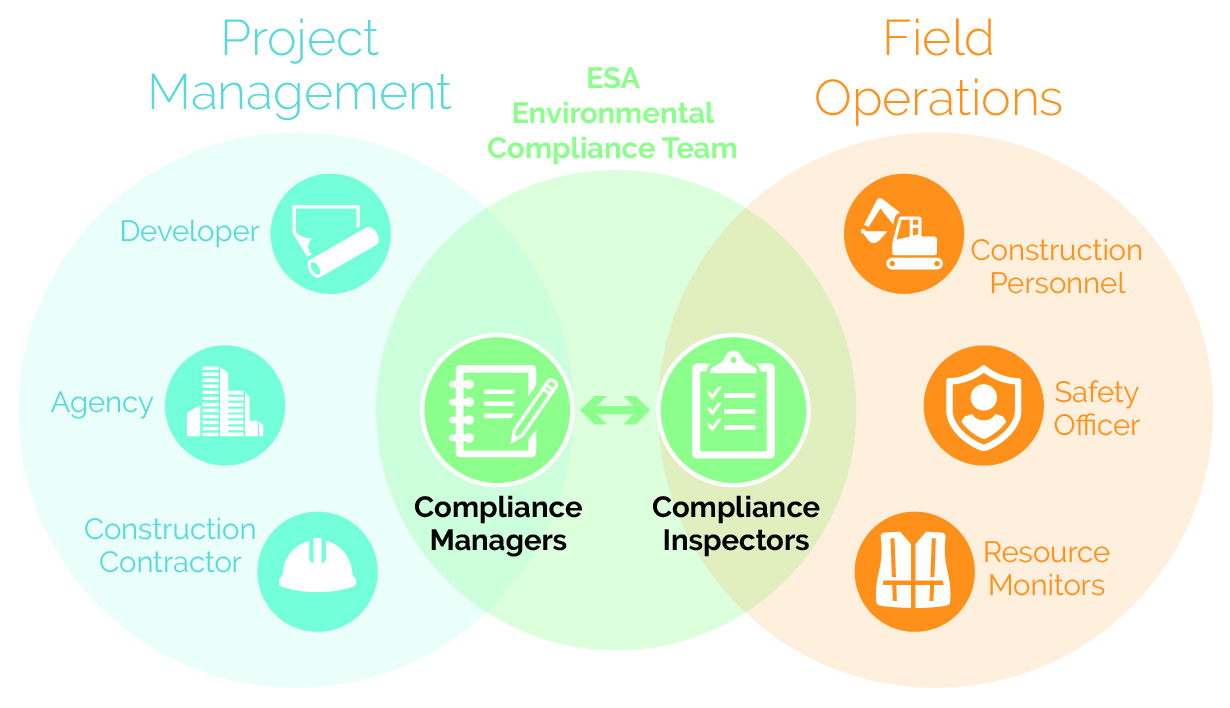 Compliance managers remain in close contact with compliance inspectors to monitor the status of construction activities, compliance or non-compliance issues, and to quickly resolve any issues with the team.
Ultimately, while the objective is to maintain an environmentally compliant construction project, it's also critically important to complete projects quickly and safely. Achieving all of these goals is possible through open and honest communication among everyone involved in the project.
Development of Environmental Compliance Monitoring Plans, contact lists, and communication trees is important as preparatory steps to implement prior to the commencement of construction. Regularly scheduled meetings for key agency, developer, and compliance management team members provide a forum to share project updates, a look ahead at upcoming activities, and compliance issues in need of resolution. These methods can result in anticipating and resolving potential project bottlenecks, limitations, and any potential problems before a situation approaches noncompliance. Working proactively to anticipate and problem solve leads to strong relationships built on trust and respect, ultimately resulting in the successful implementation and completion of projects.
Case in Point: Arica and Victory Pass Solar Projects
At the end of 2021, the Bureau of Land Management (BLM) approved the Arica and Victory Pass (AVP) solar projects, which are poised to generate a total of up to 465 megawatts of electricity with up to 400 megawatts of battery storage. It's estimated that these two projects alone will provide the capacity to power 132,000 homes.
The AVP solar projects are unique in that they are the first to be approved under the Desert Renewable Energy Conservation Plan (DRECP). The DRECP focuses on 10.8 million acres of public lands in the desert regions of seven California counties with the purpose of streamlining environmental assessments and permitting to get important renewable energy projects operating more quickly.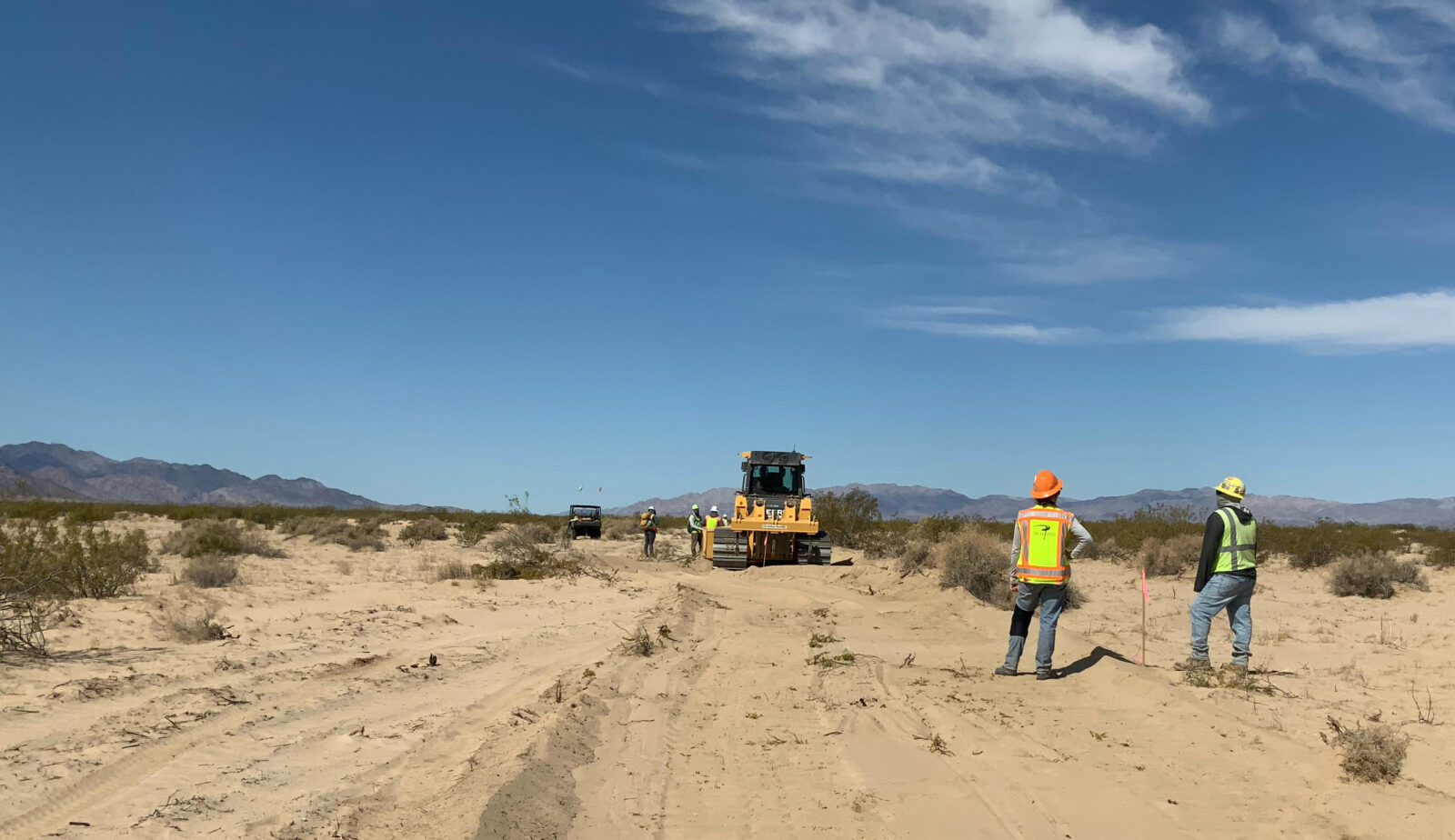 Compliance monitors from ESA are currently overseeing construction at the Arica and Victory Pass (AVP) solar projects. Image by Salpi Bocchieriyan
ESA is currently serving as the third-party compliance monitor on the AVP solar projects on behalf of the BLM. In this role, ESA is the "eyes and ears" of the BLM in regard to documenting project compliance with National Environmental Policy Act (NEPA) mitigation measures and other regulatory permitting conditions. The projects are immense and include a complex group of stakeholders, as well as challenging permitting constraints. Thus, we're already seeing the benefits of ESA's expertise as a communication liaison, bringing extensive technical and management knowledge to successfully anticipate and head off potential issues that arise.
The principles being put to use on the AVP solar projects are the same that ESA has successfully applied to transportation, water, community development, and many other types of projects where compliance support is critical in ensuring consistency with environmental requirements. And, as the renewable energy industry explores its future, including offshore and onshore wind development, transmission, and more, we are certain strong communication and collaboration among stakeholders will remain invaluable.
For more information on ESA's compliance monitoring services for renewable energy projects, please reach out to Monica Strauss or Dustin Swenson.