President Biden's signing of the $1.2 trillion Infrastructure Investment and Jobs Act (IIJA) on November 15, 2021, was the final step of a nearly two-year effort to create the largest source of public works funding in our nation's history. Exactly 12 months later, the White House announced that $185 billion in IIJA money had been distributed over the past year to support over 6,900 projects.
Enthusiasm remains high for the law that's impact is being compared to the implementation of the Interstate Highway System. But there have also been complaints about funding moving too slowly and concerns that construction costs will rise significantly once a grace period ends on a requirement that all iron, steel, construction materials, and manufactured products be made in the United States.
IIJA's Origin Story
Also known as the Bipartisan Infrastructure Law (BIL), IIJA is the result of nearly two years of negotiation and debate on authorizing a new five-year federal surface transportation spending package to replace the expired FAST Act (which was preceded by MAP 21, which had followed SAFETEA–LU) as well as creating a funding mechanism for much-needed upgrades to the nation's non-surface transportation infrastructure, with an emphasis on environmental justice and reducing the effects of climate change. These two goals were fused together to produce IIJA. While the 13-figure price tag is eye-catching, the amount is actually significantly smaller than what was proposed in earlier drafts of the bill. Some of the programs were removed before the finalization of IIJA reappeared in the Inflation Reduction Act (IRA), which Biden signed into law in August 2022.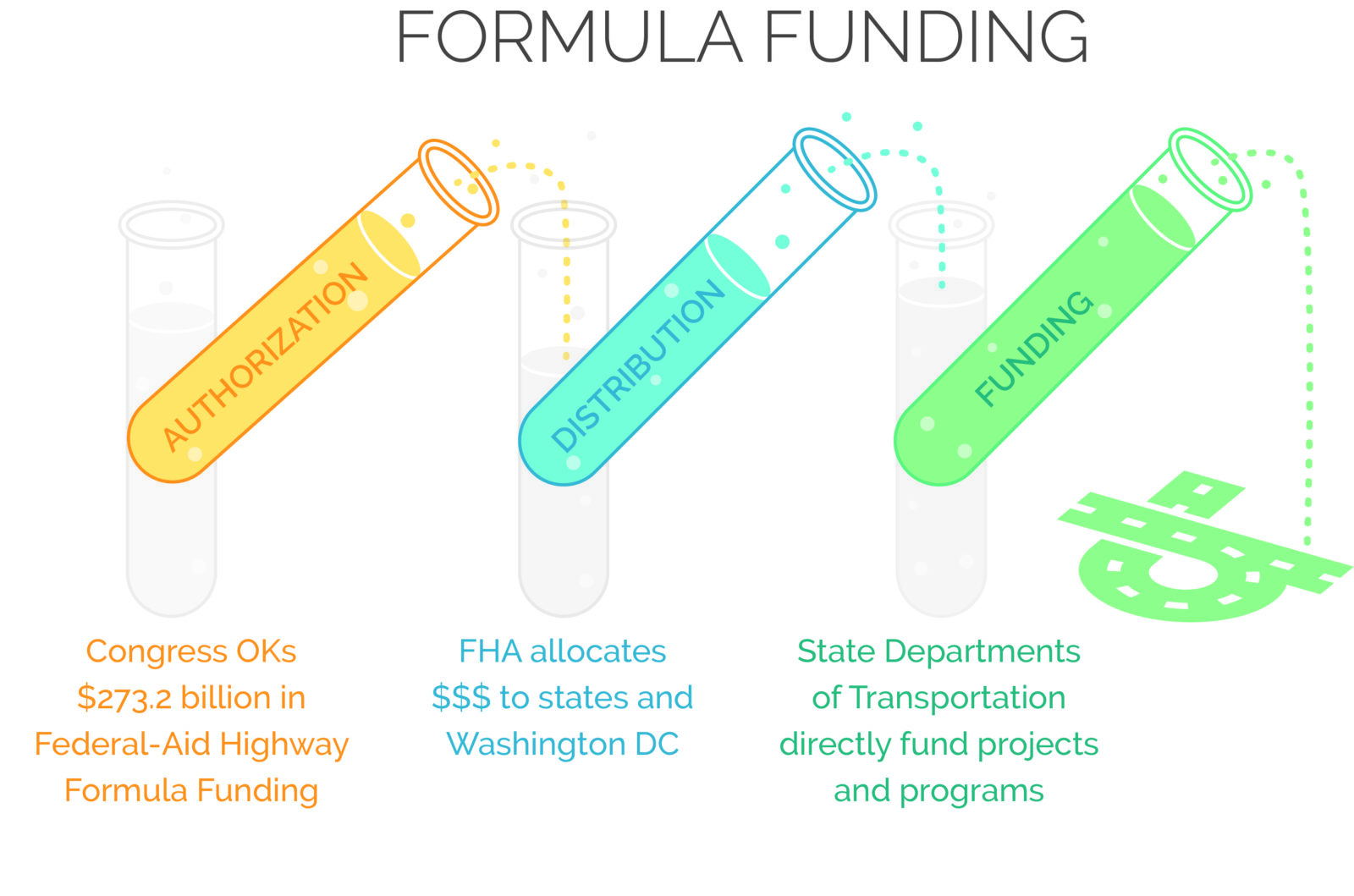 Federal-Aid Highway money is among the 60 percent of IIJA dollars that are allocated through formula funding.
While critiques have been raised about IIJA's cost and aspects of its implementation, most people can observe that our nation requires a significant number of infrastructure improvements. The American Society of Civil Engineers (ASCE) issued the country an overall grade of C- for the 2021 edition of its quadrennial Report Card for America's Infrastructure. That mediocre mark was actually a refreshing improvement—marking the first time the grade was above the D range since the ASCE began official tracking in 1998.
On a National Tour
IIJA money is distributed via hundreds of programs involving multiple federal agencies to fund the rehabilitation, replacement, expansion, and installation of roads, bridges, and railways, as well as facilities that store, recycle, and/or distribute water. Other projects eligible for IIJA money include improvements for water ports and airports, upgrading and expansion of the nation's power grid and broadband services, and the implementation of an electric vehicle charger network. IIJA also addresses our nation's cruel legacy of allowing pollution to disproportionately affect minority and other underserved communities by providing money for environmental justice programs such as superfund projects and orphaned well site plugging, remediation, and restoration.
Approximately 60 percent of IIJA money is distributed through formula funding, including the Federal-Aid Highway Program, which is delivering more than $270 billion over the next five years to the states based on their populations and other factors. This money is then further allocated by the states' departments of transportation to support statewide and local projects. A similar method is used for the $50 billion in water funding of which nearly half must be used for removal of lead pipes and to remove PFAS pollutants–commonly known as "forever chemicals." The remaining 40 percent of the money is distributed through competitive grants, loans, and other federal support programs.
How to Stay Informed
There is, unfortunately, no official IIJA website with information on all the available grants and other funding sources. This makes keeping up to date on all things IJJA more difficult than perhaps it should be. The White House has a guidebook that is a good place to get started, but it has only been updated once since IIJA was implemented.
ESA has been tracking IIJA funding through grants.gov, which is a Federal Government website that allows you to search for information on any grant, as well as the National Governors Association's website, which has a page that lists grant deadlines through December 2023. Do you have questions about IIJA funding or how ESA is tracking it? Reach out to Jonathan Friedman.