Across Puget Sound, there are competing demands on floodplain areas: local jurisdictions need to manage flood risk, salmon recovery entities need to restore and reconnect habitat areas, and farmers need to ensure that their farms remain viable. At the same time, all three of these interests are threatened by residential and commercial development in the floodplain.
Regional efforts such as the Floodplains by Design initiative and local efforts such as the Puyallup Watershed Floodplains for the Future (FFTF) program are working to develop large-scale floodplain actions that provide multiple benefits. In many cases, however, the groups conducting these efforts have found it easier to integrate flood risk reduction and habitat restoration, while still struggling to bring agricultural needs into their planning processes. The reality is that floodplain projects require land. In many cases, there has been backlash from farmers who are unwilling to sell their land or are concerned that the agricultural land base will be reduced.
One example is Pierce County's proposed Clear Creek Floodplain Reconnection Project, part of the Puyallup Watershed FFTF program, which is funded by a Floodplains by Design grant. As planned, the project would require acquisition of some agricultural properties in the Clear Creek area, located directly east of Tacoma, in Pierce County, Washington. The project has faced opposition from some farmers in the Clear Creek area who are concerned about the loss of agricultural land and potential impacts to drainage and flood risk. For this reason, part of the FFTF initiative is the Farming in the Floodplain Project (FFP), led by PCC Farmland Trust. The FFP is working to conduct research on the needs of the agricultural community in the area so that it can be included in the project planning process on an equal footing with flood risk reduction and habitat needs.
PCC Farmland Trust hired ESA to conduct the technical side of the project. We recommended a phased approach: first, gain a strong understanding of existing conditions and involve the affected farmers, then dig into the technical work needed. In the first phase, we formed a Technical Advisory Group (TAG) consisting of farmers, Pierce County staff, and regional technical experts to broaden the conversation from the specific project to agricultural viability as a whole. We also developed an Existing Conditions Report that clarified the concerns and information needs for the area.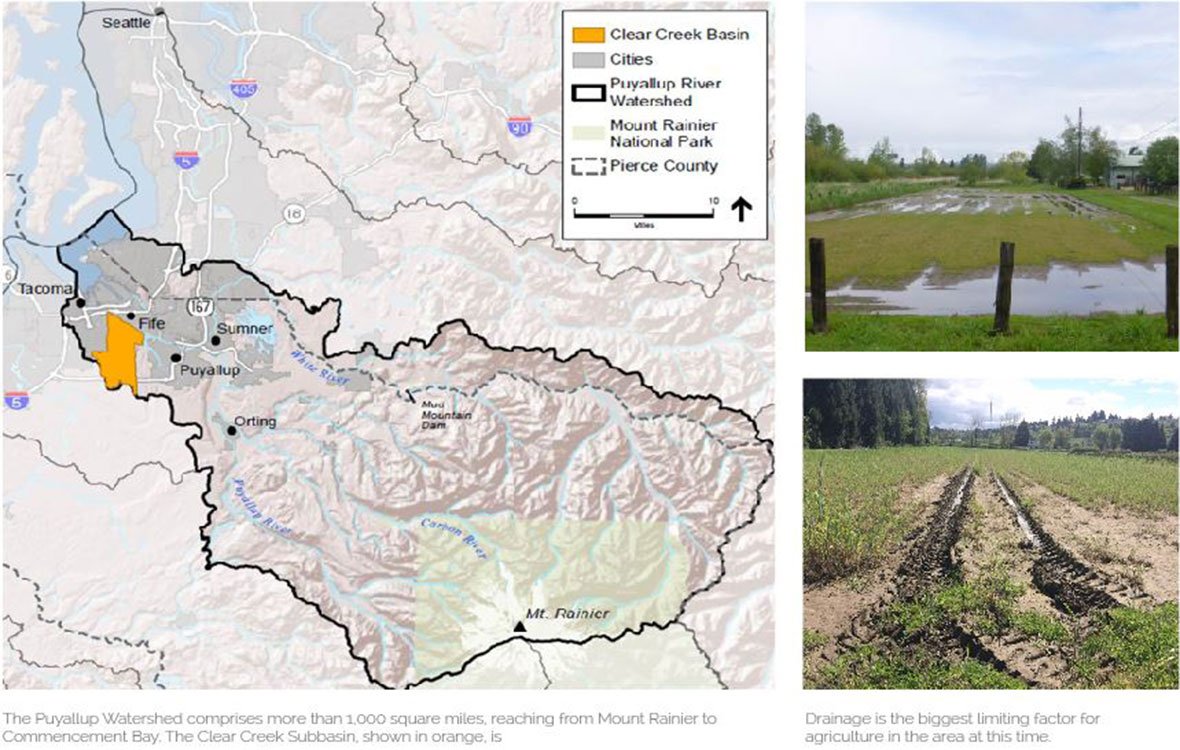 Over the course of the first phase, we realized the importance of listening carefully to farmers and landowners about their concerns, which were not necessarily what we assumed when we began the project. We learned that conditions, crops, techniques, and plans vary so much between farms—even neighboring farms, so setting thresholds for farming as a whole would not work.
We took our findings and used them to develop a scope of work for Phase 2 that farmers in the area could support, including:
Researching and clarifying flood risk in the area
Facilitating a TAG workshop on sediment in the Puyallup River and in Clear Creek
Assessing the Clear Creek tide gates and potential actions to improve them
Conducting an inventory of the agricultural drainage system
Writing a memo detailing potential impacts to farmland of the proposed floodplain reconnection project
Documenting technical information about conditions in the Clear Creek area and explaining how they relate to agricultural viability has helped other FFTF program partners understand the importance of addressing agricultural needs. Our focus on trends and our inclusion of climate change information in our deliverables has helped farmers see potential benefits of the proposed floodplain reconnection project. A project that is designed to minimize impacts to agriculture and even include some benefits (such as improved drainage) could make agriculture more viable.
Thanks, in part, to input from farmers, the County has agreed to a facilitated master planning process for the floodplain reconnection project. It is our hope that this process will lead to a project that will be beneficial to agriculture and can therefore move forward with community support. To learn more about the Farming in the Floodplain Project, please reach out to Spencer Easton.