It was a mystery that stumped scientists for over 40 years. Why are juvenile salmon and steelhead experiencing such drastic and sustained population losses in the Salish Sea during their migration to the Pacific Ocean?
Chinook and coho salmon and steelhead trout are important ecological and cultural species in the Salish Sea, which includes Puget Sound in Washington and the Strait of Georgia and Strait of Juan de Fuca in British Columbia. They provide essential food sources for fish, birds, and endangered Southern Resident orcas, and they bring marine nutrients back to the rivers and coastal watersheds where they spawn and die. These species are of great cultural and spiritual significance to local tribes; are a mainstay of the area's tribal, commercial, and recreational fisheries; and support tribal treaty rights.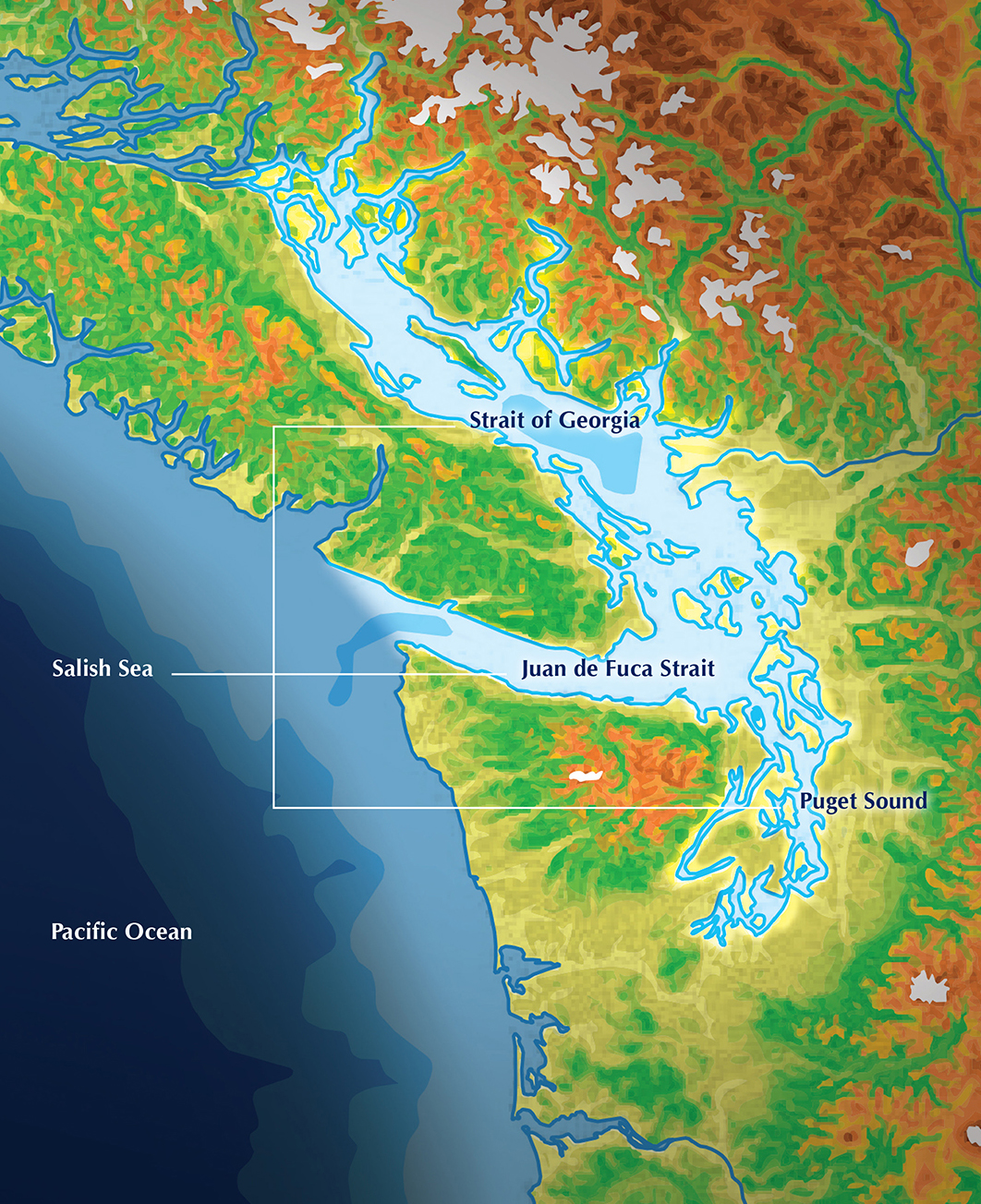 Fish Populations in Crisis
Unlike in other nearby coastal regions, young salmon and steelhead in the Salish Sea have been enduring alarmingly steep declines in their marine survival rates, which is calculated as the percentage of out-migrating smolts that eventually return to their native rivers and hatcheries. When salmon and steelhead migrate from freshwater toward the ocean, these smolts enter a critical stage of their life cycle as they adapt to saltwater. Researchers found that marine survival rates in the Salish Sea have dropped by as much as 90 percent since the 1970s; one recent study found that only about 16 percent of wild and 11 percent of hatchery steelhead smolts that left the mouths of rivers survived to reach the Pacific Ocean.
To address this crisis, salmon recovery organizations Long Live the Kings and the Pacific Salmon Foundation initiated the Salish Sea Marine Survival Project (SSMSP) in 2014. Since the launch of the project, more than 200 scientists from 60 federal, state, and tribal institutions across the United States and Canada have participated, conducting more than 90 research studies over a period of five years.
The findings, published in a 2021 Synthesis Report, found there were complex interrelationships within the ecosystem and that two phenomena were primarily impacting survival rates: changes in food supply and predation. The report determined that changes in environmental factors such as weather, temperature, and fluctuations in nutrient levels were largely impacting salmon's food supply of phytoplankton, zooplankton, and herring. Booming harbor seal populations were further hindering fish survival rates.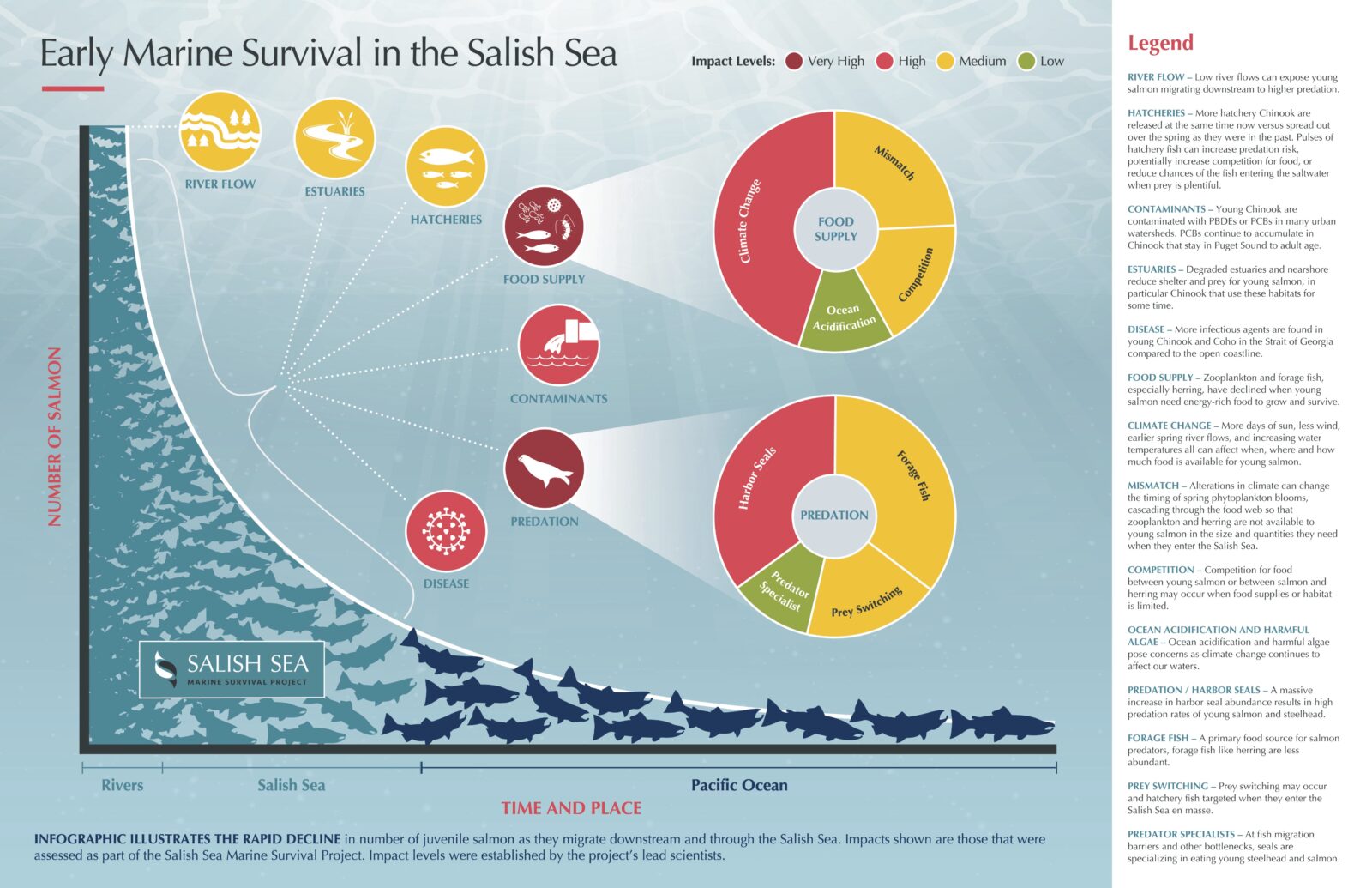 Developing Local Solutions
In order to apply the research findings and recommendations laid out in the synthesis report into applicable solutions for local salmon recovery efforts, Long Live the Kings engaged with ESA to develop the Local Guidance Document for U.S. Entities.
ESA's natural resource specialists have worked with salmon recovery lead entities and the Puget Sound Partnership to integrate adaptive management and updates into salmon recovery plans. With this understanding of fish recovery needs, the collaboration with Long Live the Kings was a natural fit.
The Local Guidance document builds on SSMSP recommendations and presents strategies and actions for local entities to apply at the local scale. It details how groups can address local impacts on marine survival rates by improving fish habitat conditions while limiting predation, enhancing food supplies, and partnering with fellow conservation efforts to accelerate estuary habitat restoration.
"The Salish Sea Marine Survival Project gave us clear evidence that environmental changes, from estuary and nearshore habitat loss to climate shifts, have impacted the entire Puget Sound food web in ways that are limiting the productivity, survival, and fitness of our juvenile salmon," says Jacques White, Executive Director of Long Live the Kings. "This guidance document translates those findings into management and restoration actions. ESA had both the science and policy expertise that were essential to connect the research to concrete steps. We hope this toolkit provides a timely ecosystem perspective to equip local and regional salmon recovery efforts."
"The breadth and depth of issues that salmon recovery groups are being asked to tackle continue to grow as we learn more about what it is going to take to recover these species," notes Senior Conservation Planner Susan O'Neil, who guided the creation of the guidance document.
O'Neil explains that local recovery strategies will need to apply a holistic approach to address the complex interconnectedness of environmental factors that are contributing to the low Chinook, coho, and steelhead numbers in order to increase survival rates and meet recovery goals.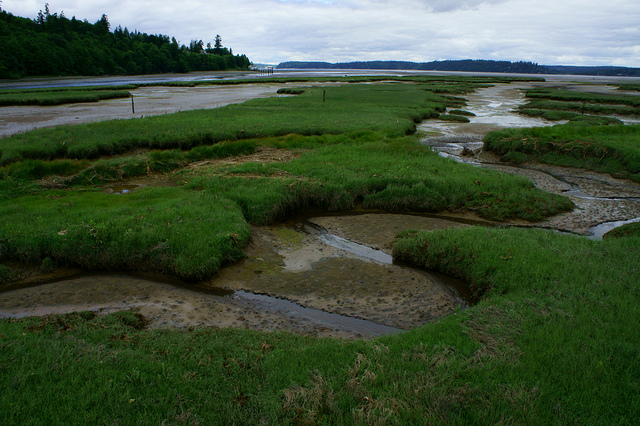 "While 10 or 15 years ago salmon recovery plans might have been focused solely on estuary and river restoration, now they also need to include issues of water quality, upland forest management, stream flows, and food web dynamics," she says. "The list continues to grow, and it can be overwhelming for groups who are also dealing with climate impacts, increasing development, habitat loss, and limited funding."
As Puget Sound is composed of many unique watersheds across the region, the guidance document is also meant to be a resource for users to gather appropriate data and determine appropriate strategies and criteria to address spawning and rearing habitat and help identify ways to increase salmon survival under specific local conditions.
"We wanted to create a document that clearly states what needs to happen, rather than asking organizations to figure it out for themselves," says O'Neil. "There is still room and need for contextualizing the strategies into local action."
How ESA Can Help
With an experienced team well versed in conservation planning and a legacy of supporting salmon recovery groups and local governments, ESA assists clients in building solutions-based strategies into their plans and processes. ESA integrates climate impact mitigation into local regulatory plans by modeling sea-level rise, assessing risk, and developing climate adaptation strategies. We also conduct habitat assessments, develop restoration designs, and assist with funding strategies to implement these actions into shoreline and estuary habitat restoration efforts.
For more information about how ESA's conservation planning experts can assist in local salmon recovery in the Northwest, reach out to Susan O'Neil.