Did you know that many airports throughout the United States have installed permanent noise monitoring terminals at locations throughout their surrounding communities? For example, in the neighborhoods surrounding Los Angeles International Airport (LAX), there are a total of 26 noise monitoring terminals installed. Outfitted with precision acoustic microphones and typically mounted on top of tall poles or rooftops, these devices measure and transmit noise level data 24 hours a day to a remote database server.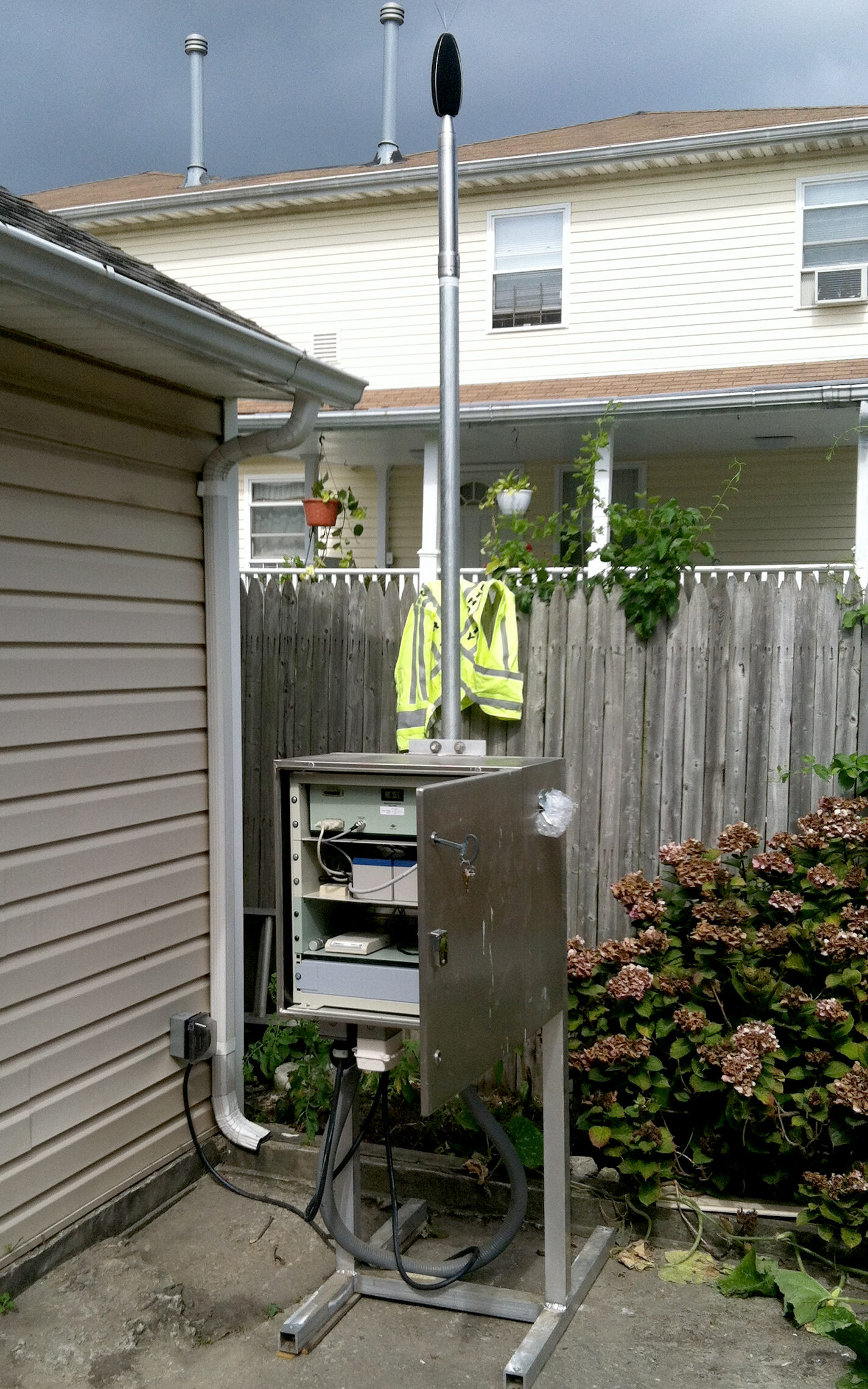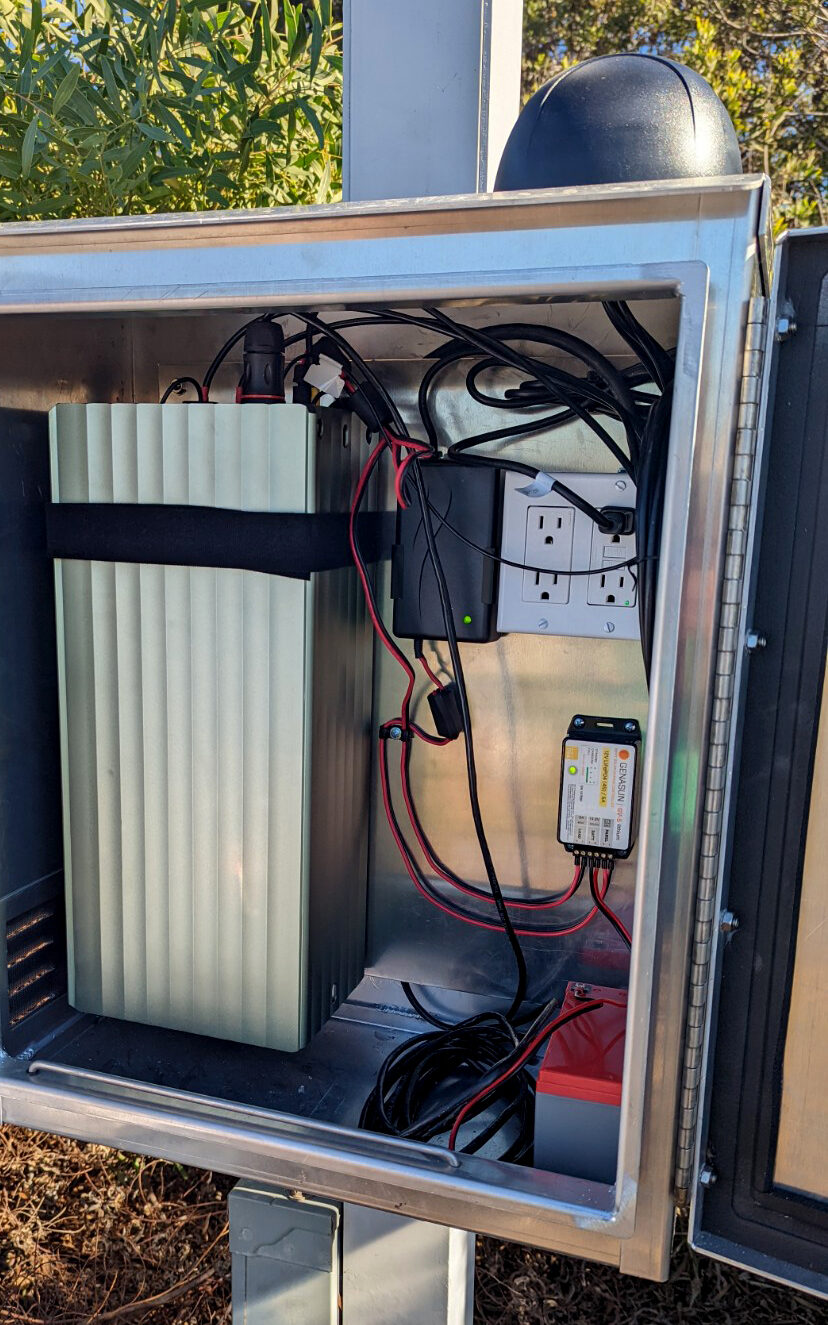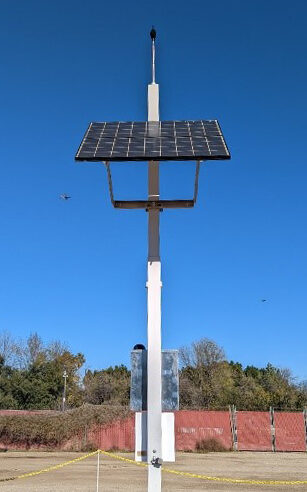 Pictured above, a Noise and Operational Monitoring System (NOMS), consists of measurement components that effectively serve as a Sound level meter (SLM). The performance of SLMs is defined nationally by the American National Standards Institute (ANSI) and internationally by the International Electrotechnical Commission (IEC).
The terminals are just one of several components that comprise a NOMS, which is a complex computerized system that an airport uses to collect, manage, analyze, and communicate noise-related data. These systems increase transparency in the event of a noise complaint from the public and provide stakeholders with information about aircraft and community noise levels.
A NOMS combines several different types of data, including:
Noise data, often in 1-second intervals
Flight track radar data, such as from the Federal Aviation Administration's (FAA's) System Wide Information Management (SWIM)
Weather data, such as from noise monitoring terminal weather stations and/or the National Oceanic and Atmospheric Administration (NOAA)
Geographic Information Systems (GIS) map data from the airport or local planning department
Air Traffic Control radio frequency data
Aircraft identification data from the FAA
Community complaints from online web forms, telephone hotlines, emails, and/or software applications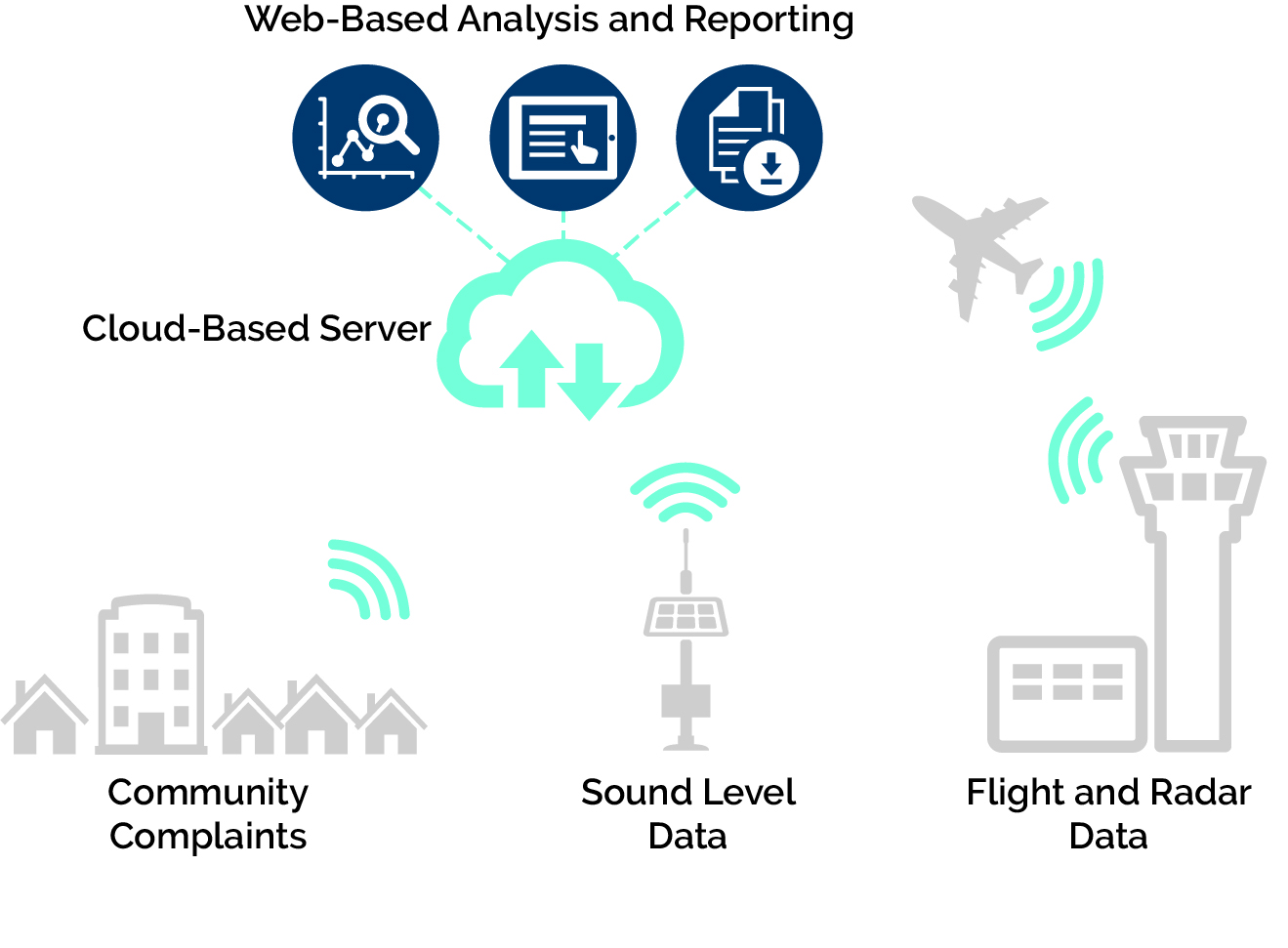 Ever since the first NOMS was mounted in 1967 at John F. Kennedy International Airport, most of the NOMS installed in the United States have been approved by the FAA as a noise-compatibility program measure and as part of an approved Title 14 Code of Federal Regulations (CFR) Part 150 airport noise compatibility planning study. Per 14 CFR Part 150, NOMS approved as a noise-compatibility program measure are eligible for federal funding.
In the early 1970s, the California Department of Transportation (Caltrans) Division of Aeronautics established airport noise standards (often referred to as Title 21) that govern the operation of aircraft and aircraft engines for all airports operating under a Caltrans permit. Title 21 was designed to provide a positive basis to resolve existing, and prevent new, noise problems in communities surrounding airports. Title 21 defined "noise problem" as whenever the estimated location of the noise impact boundary extends over noncompatible land uses. By 1975, Title 21 led to several California airports installing NOMS to validate the location of their respective noise impact boundaries. Today, there are a total of 10 California airports that have a noise problem and employ a NOMS as part of their solution.
Starting around 2010, there was a shift by some airports to remove or decommission their NOMS terminals in favor of more advanced flight tracking software and its associated capabilities. The newer flight tracking systems provide simplified solutions for evaluating noise abatement compliance and processing large volumes of aircraft operational information without noise monitoring terminals. Additionally, NOMS were decommissioned largely as a result of (1) aircraft getting quieter largely through advancements in engine technology, (2) cost of NOMS maintenance and support, and (3) resources needed and complexity to extract information from the system.
However, a lot has changed over the last decade in NOMS technology; today NOMS hardware is much more cost-effective to install, maintain, and support.
A modern NOMS is highly automated and less complex to operate than those installed by the Port Authority in the late 1960s, allowing airport staff to quickly get information out of the system. Correlations between aircraft operations, aircraft noise events, and complaints are done automatically and quickly by the system.
Near real-time flight track radar and noise data can also be viewed on web-based GIS mapping tools. Plus, airport staff can either view the data on online visual dashboards or receive automated reports on a frequency-specified basis.
While the operator fleet is continuing to be updated with quieter and more fuel-efficient aircraft, aircraft noise remains one of the issues that most concerns airports and communities. A state-of-the-art NOMS provides an airport with a tool solution that can be customized: built to measure aircraft noise exposure while maintaining stakeholder engagement and, if applicable, ensuring that aircraft noise levels are within determined threshold standards.
Airports who are considering a NOMS and want a general understanding of the associated benefits and costs of acquiring and maintaining it should be on the lookout for the soon-to-be-published research report (expected 1st quarter of 2022) from The Transportation Research Board, Airport Cooperative Research Program 02-89, A Primer and Framework for Considering an Airport Noise and Operations Monitoring System (NOMS).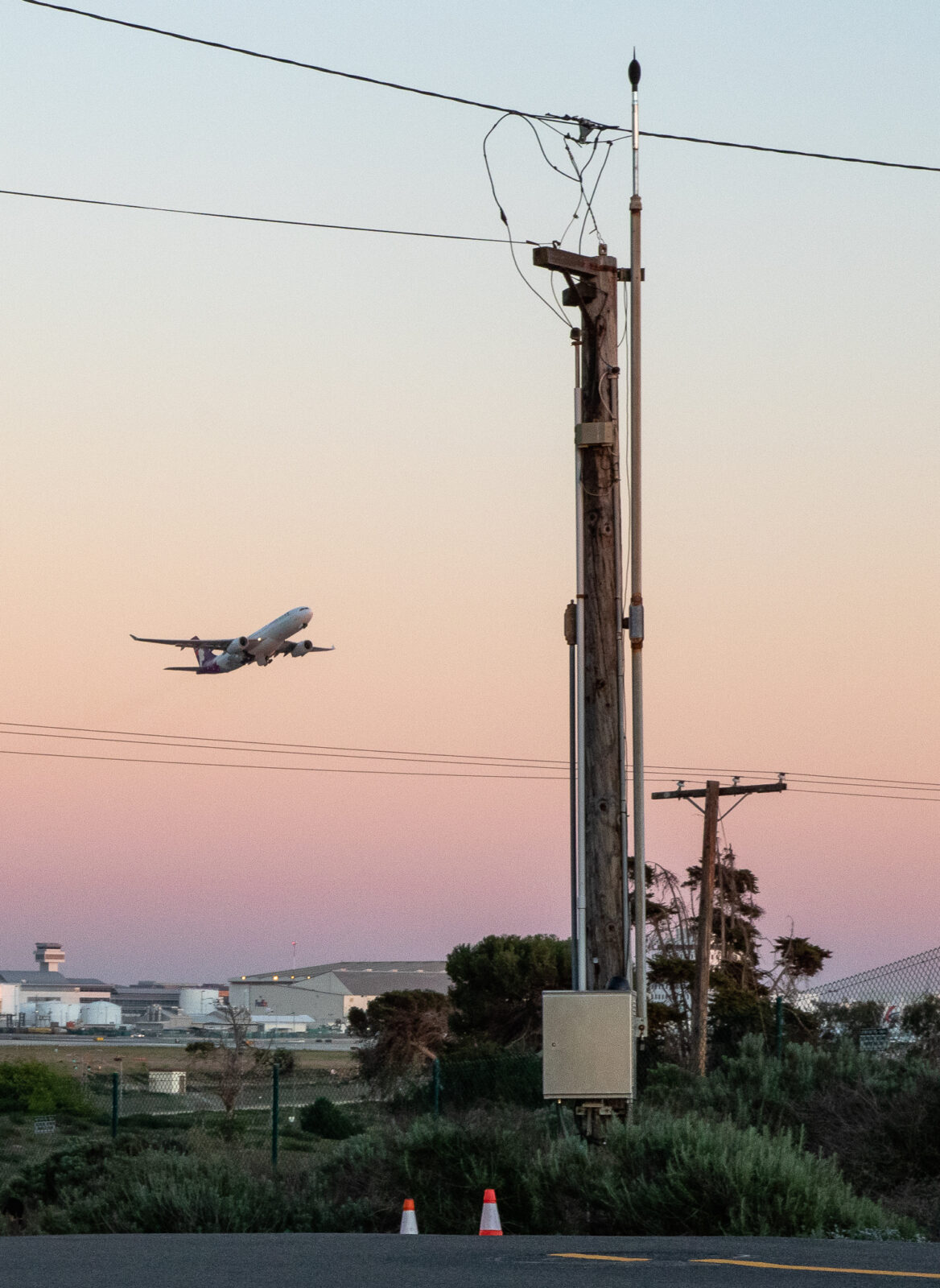 The objective of the research is to describe the current state of NOMS in the United States, including but not limited to:
Types of data being collected
How NOMS are being used
Degree of public access and interface with the data (e.g., reports, website portal)
Order-of-magnitude resource requirements (e.g., costs for acquisition, ongoing maintenance, and staffing needs)
Potential funding sources
Reasons for acquisition
Quantitative and qualitative benefits
Staff from ESA's Aviation Noise team is available to provide more specific and detailed information regarding a new or upgrade of an existing NOMS. Our team has extensive experience in using various NOMS to analyze data and create custom reporting and web-based dashboards from large data sets, providing stakeholders with meaningful and easy to understand data and visualization
For assistance in determining the best solution for your airport, please reach out to Justin Cook. Justin has more the 20 years of NOMS experience, having assisted 26 airports throughout the United States with the installation, preventative maintenance and support, technical specifications, and acquisition assistance of NOMS.