Since the beginning of the interstate highway system in the late 1950s, transportation facilities were largely planned, built, expanded, and operated—often without public involvement—to respond largely to travel demands by car. They were reviewed and mitigated for environmental impacts after the project was already planned, failing to account for social needs or impacts on low-income neighborhoods of color and other vulnerable populations (e.g., seniors, disabled persons, women).
The social aspects of transportation, the connective tissue that is our streets and pathways, are significant and need to be included in the transportation planning process. Mobility justice increases mobility options, such as improved bike and pedestrian networks, mobility hubs, and ADA-accessible services, that then open up opportunities for people to get outside more and connect socially, building greater community cohesion.
The idea of building transportation systems equitably and inclusively at the outset is growing increasingly central to transportation planning and implementation to repair historic harms from transportation decisions, increase access to high-quality mobility options, and to dismantle old and create new systems for equitable transportation planning and implementation moving forward. Fortunately, more transit districts are looking for transportation planners to incorporate mobility justice in their future projects—below are a few reasons why.
Enabling Opportunity
Mobility justice enables all people the freedom to choose how to get around, as well as the ability to do so safely, affordably, efficiently, and reliably. This means having a multi-modal and intermodal transportation system that facilitates safe, spontaneous, and interconnected traveling via any mode (bike, pedestrian, transit, or car). It means giving lower-income residents, who are shown to spend a higher percentage of their incomes on transportation and rely more on public transit, access to affordable, efficient, and reliable public transportation to access their jobs, school, healthcare, etc.—in short, access to opportunity.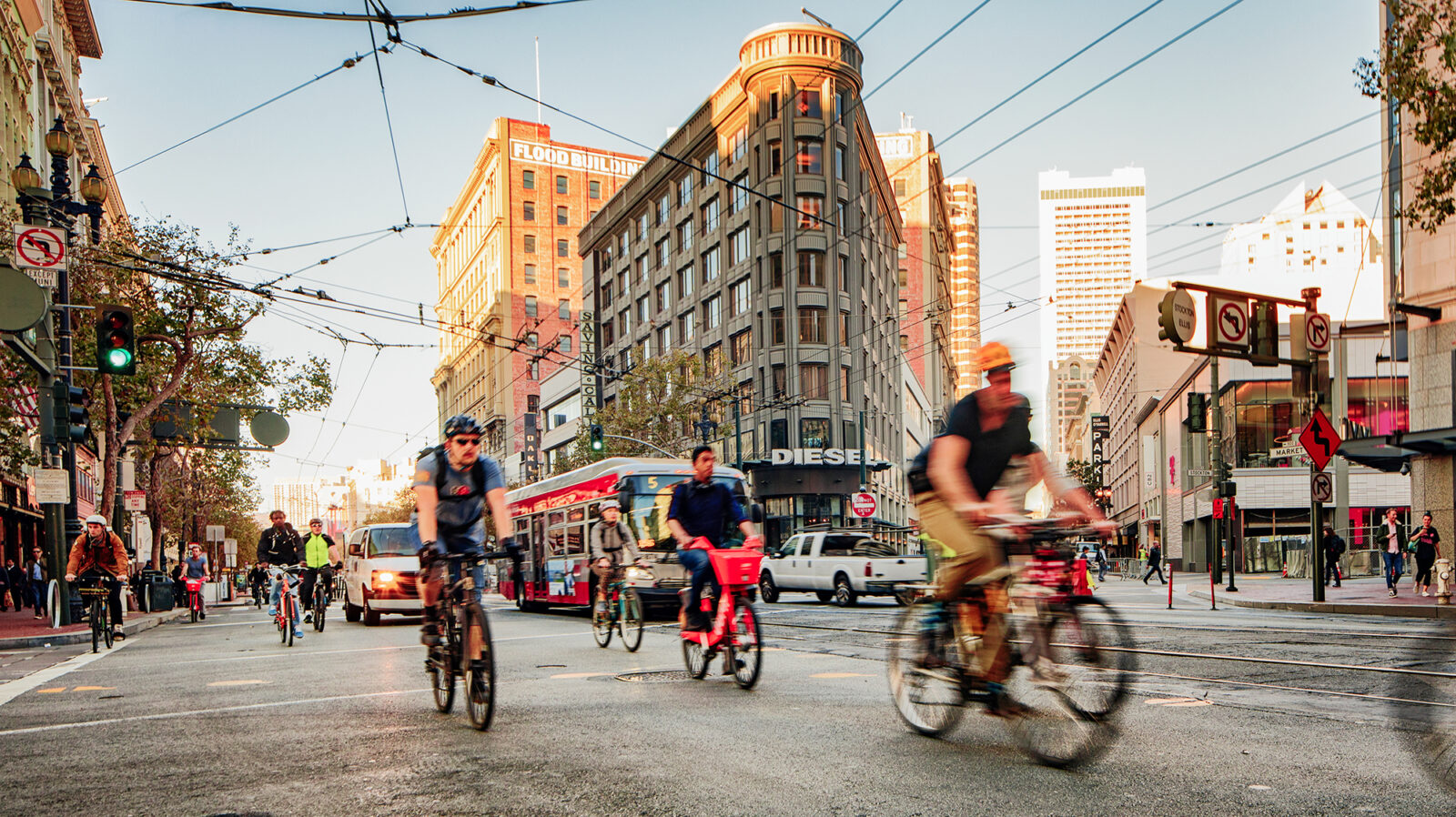 An intermodal transportation system in this context refers to one that involves more than one type of transportation, such as walking and transit, bicycling and transit, or driving and transit, and that connects these modes together safety and efficiently.
Avoiding Displacement
Transportation investments meant to help lower-income communities have sometimes instead resulted in displacement due to increased property values and rents that typically occur as communities are improved. This underscores the need to coordinate with the lower-income residents and businesses for whom transportation investments are intended to serve, to design "anti-displacement" measures that will be effective at preventing displacement. When transportation investments are coupled with multi-sector benefits, including affordable housing and job opportunities, the entire community reaps the rewards.
Improving Community Health and Safety
Low-income communities and communities of color disproportionately suffer from toxic smog from transportation-related pollution, which contributes to higher rates of asthma, cancer, and other illnesses. In addition, auto-oriented systems have higher levels of traffic injuries and fatalities and contribute to more sedentary lifestyles, which can lead to obesity and heart disease. All of these statistics point to the need to prioritize high-quality intermodal transportation networks that uplift a basic freedom to live a safe, healthy, and active lifestyle.
Best Practices in Achieving Mobility Equity
With the current national focus on justice—environmental, social, and racial—it's a hopeful time as planners, as we collectively center our work on people, work to repair historic harms, and prevent mistakes of the past from reoccurring.
There are many people and organizations across the nation that are working and providing resources to help communities shift toward mobility justice.
In California, one organization is the Greenlining Institute, which is a public policy, research, and advocacy non-profit organization that seeks to advance economic opportunity and empowerment for people of color through advocacy, community and coalition building, research, and leadership development.
In 2018, the Greenlining Institute published the Mobility Equity Framework: How to Make Transportation Work for People, followed by Clean Mobility Equity: A Playbook in 2021.
By using the Greenlining Institute's framework and playbook as guides, as well as other best practices and lessons learned through our work and partnerships, all of these transportation investments and resources have paid off in plans that are largely written by and for the local community, who are, in fact, the ones moving justice forward.
The Framework seeks to resolve problems by addressing and elevating a community's mobility needs and maximizing equity outcomes through a three-step process that:
Identifies the most pressing unmet mobility needs of a specific low-income community of color.
Applies a mobility equity analysis to prioritize transportation modes that maximize access to high-quality mobility options and economic opportunities, and minimize burdens such as exposure to air pollution.
Places decision-making power in the hands of the local community through all stages of project planning and development.
The Playbook formed the basis of how the Greenlining Institute evaluated California's clean mobility programs and pilot projects through the "Six Standards of Equitable Investment" (see sidebar above) and "Making Equity Real Framework."
The Making Equity Real Framework evaluates how equity is accounted for across a mobility program's mission, process, outcomes, measurement, and analysis in the context of all six standards of equitable investment, and allows for a comprehensive identification of what works, what gaps exist, and how to address them. These elements lay the critical foundation to enable government and communities to work together to dismantle structural racism and social injustice in order to deliver more meaningful equity outcomes.
Looking Ahead to a More Equitable Future
For many years, working in partnership with local agencies, advocacy groups, community-based organizations, and specialty transportation firms, ESA has strived to prioritize equity-based planning from the outset.
ESA is also tracking trends, lessons learned and best practices around equitable planning for more novel forms of transportation, such as electric vehicles, autonomous vehicles, vertiports for delivery drones and electronic takeoff and landing (eVTOL) vehicles like air taxis. Planning for these emerging forms of transportation is going to fundamentally change how we plan communities, and we need to help ensure that they work for, and not against, those most vulnerable.
To learn more about our work in mobility justice, please reach out to Shannon Wages.