It's a blisteringly hot summer day in Huntington Park, California. A group of ten environmental and planning interns gather around a small, empty lot covered in dry vegetation on the busy corner of Bissel and East Gage Avenue, furiously jotting notes and taking photos on their phones. It's their tenth stop out of 18 site visits that day and, with its proximity to housing and businesses, it looks like this would be an optimal place to build a community garden.
Over the course of just two weeks, the group will assess data and observations collected at each site, talk with residents and gather community input, and present their final site recommendations to the City of Huntington Park. Their findings will be key to helping the City decide where to develop neighborhood gardens by 2030—part of policy goals to address food insecurity in the predominantly low-income community—as directed by the City's Environmental Justice Element.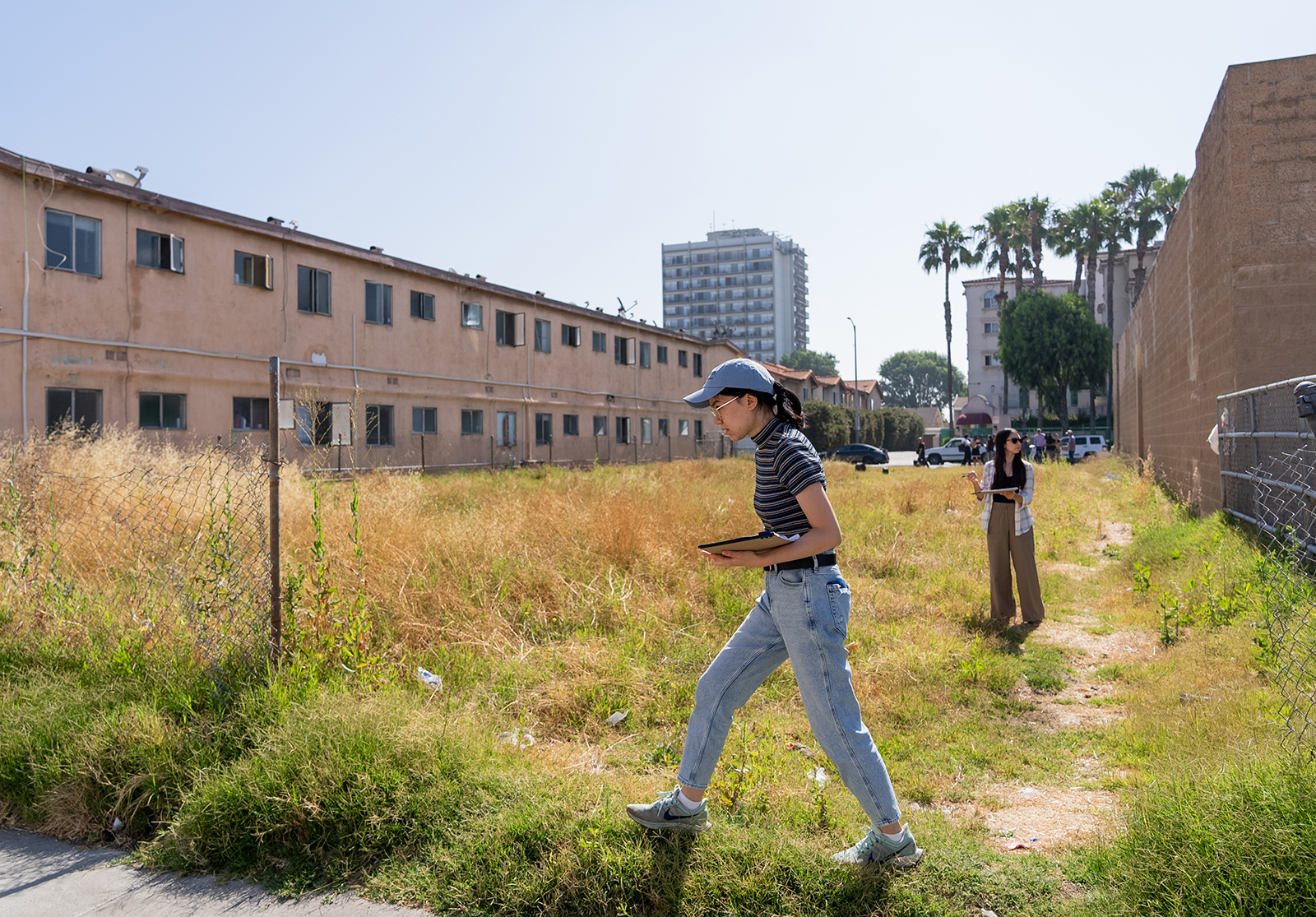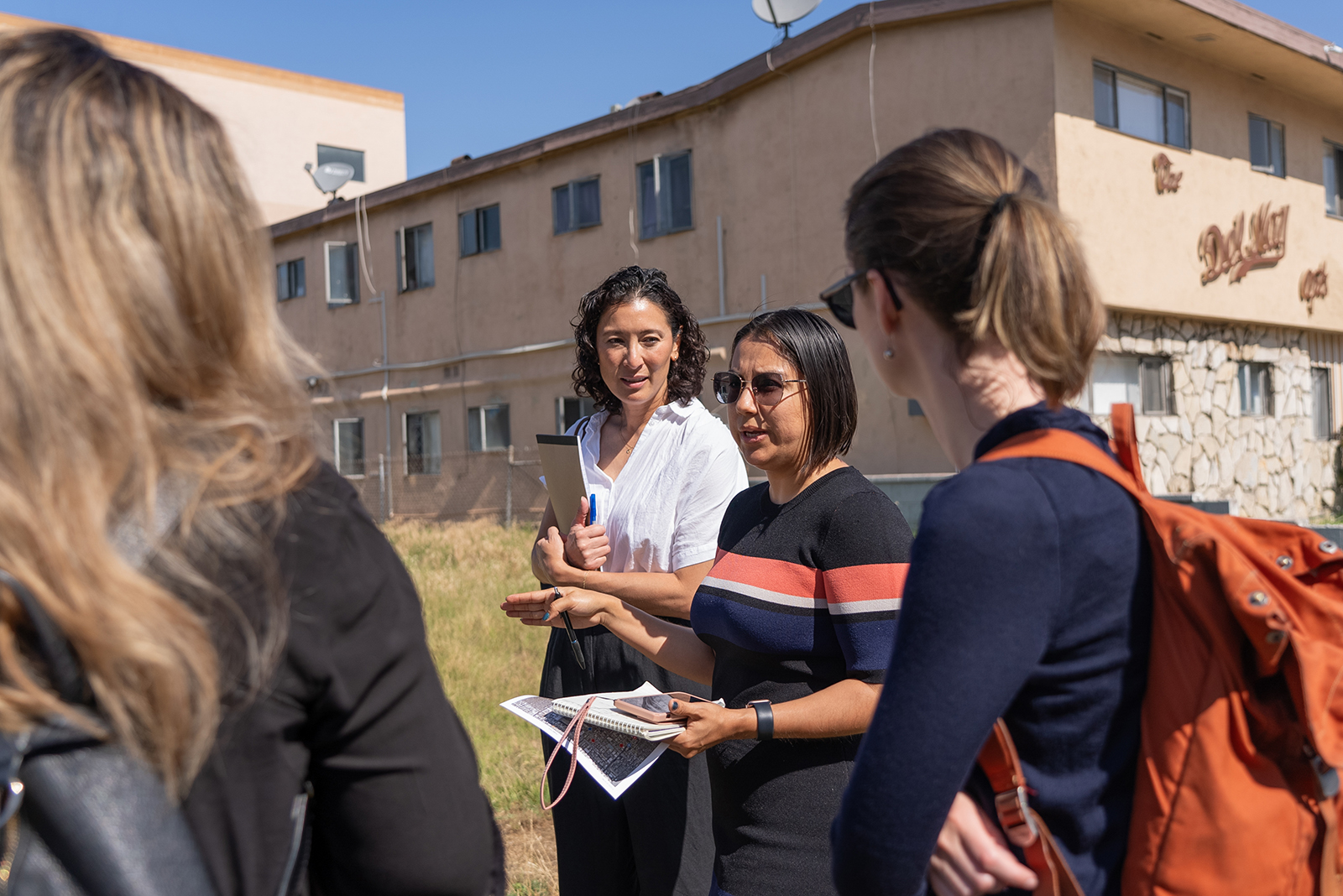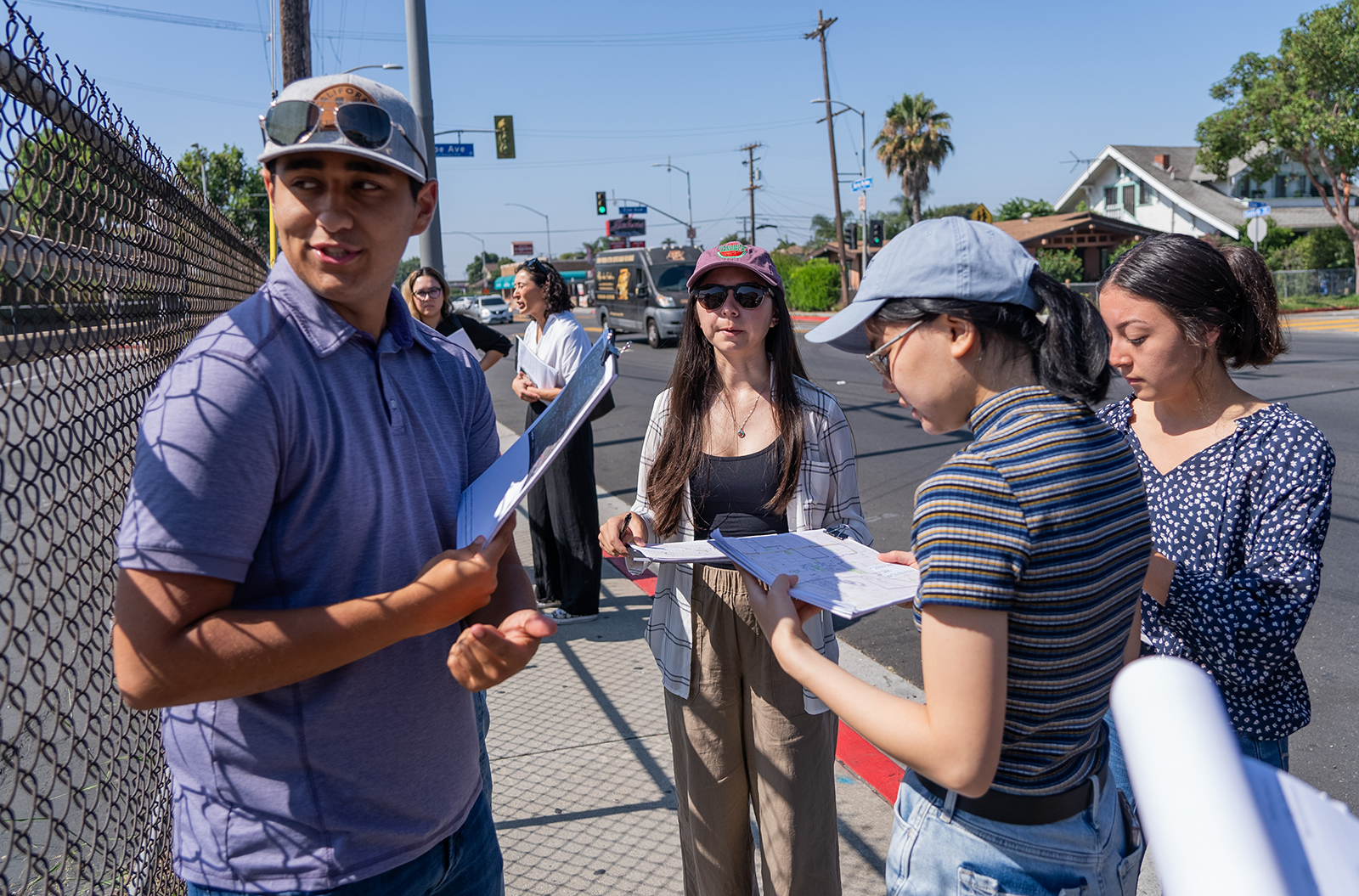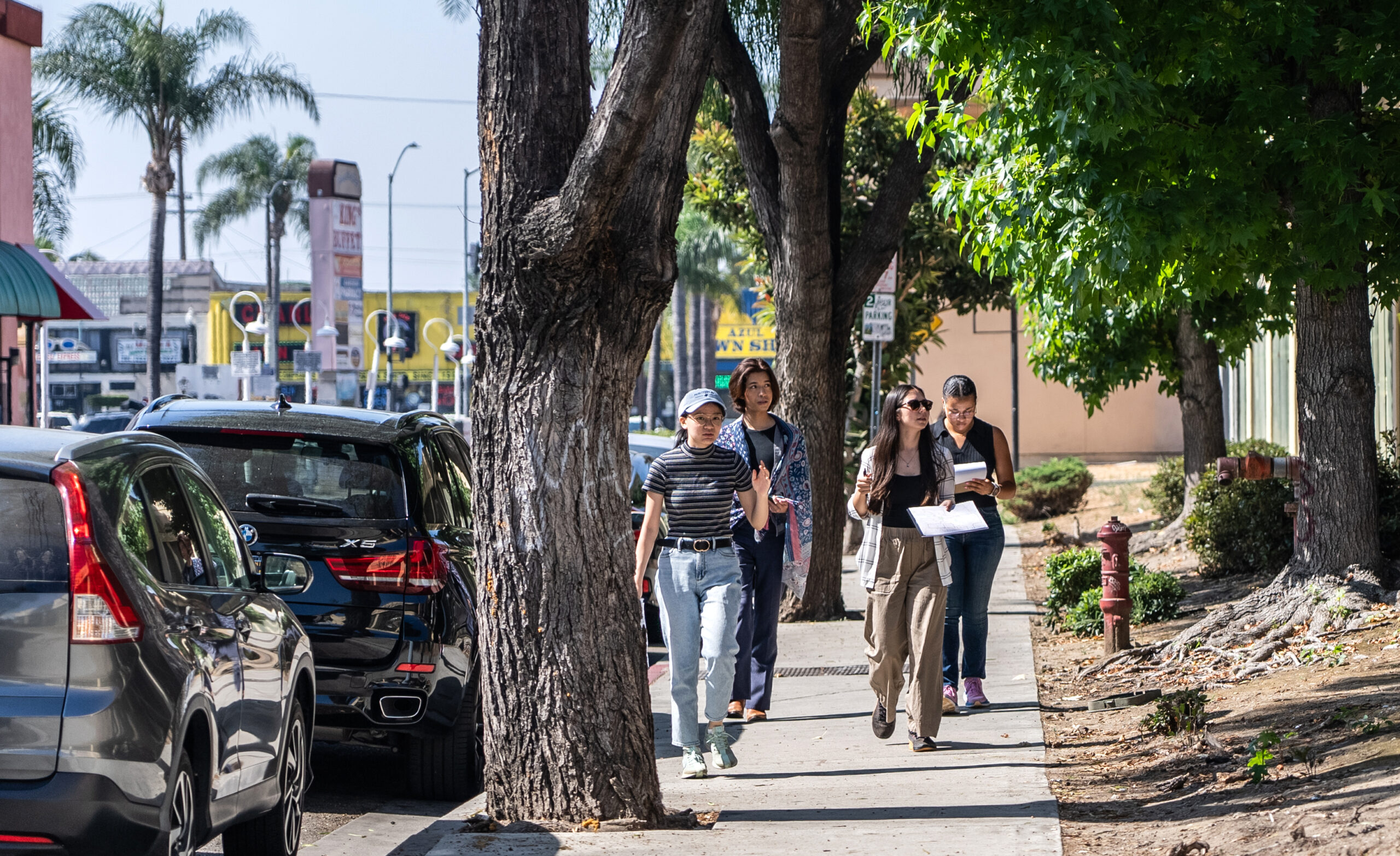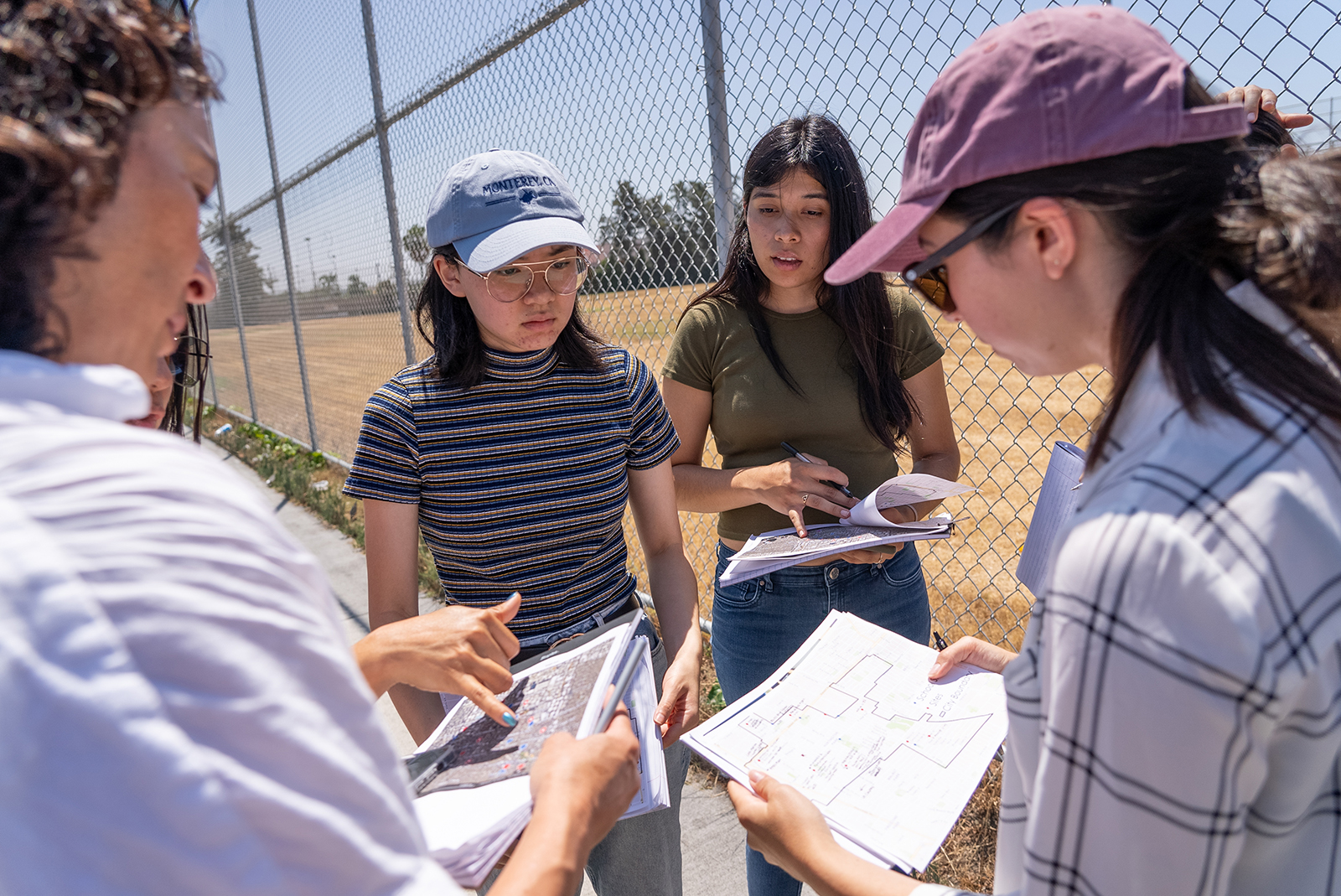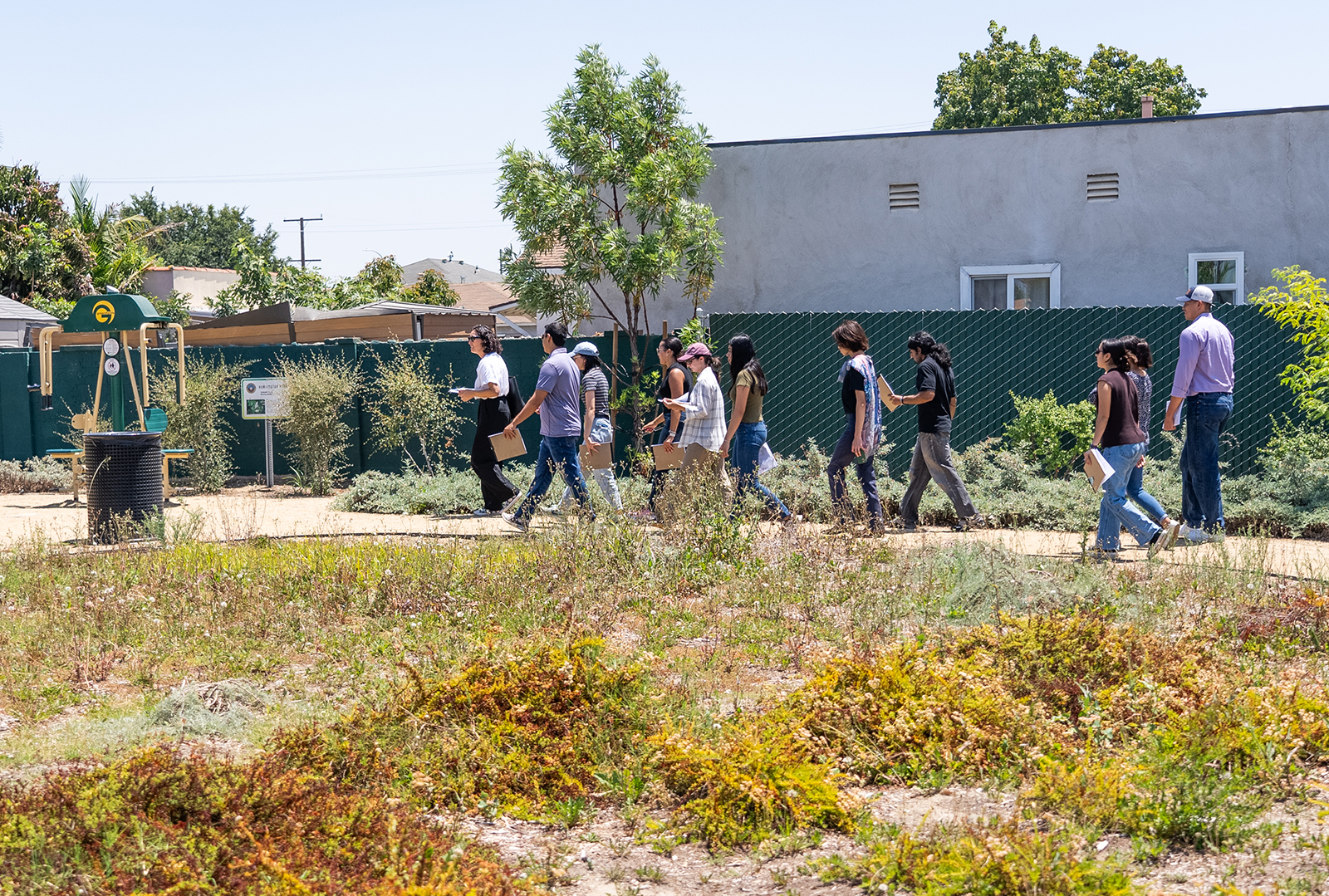 Interns conduct site analysis at 18 locations across the City of Huntington Park to determine potential locations for community gardens, joined by the City's planners and professionals from Rincon Consultants, Inc, and Ascent.
The experience is part of an intensive two-week charrette designed to give opportunities for students from historically underrepresented communities a chance to dive head-first into the industry and gain working experience with a client. The charrette is a component of a joint Environmental & Planning Diversity Internship Program formed by ESA and four other leading firms to address the diversity gap in the environmental and planning industries.
A Diversity-Based Internship Is Formed
In late May 2020, as the nation was still reeling from the COVID-19 pandemic, the senseless and devastating tragedy of George Floyd's death moved many professionals and organizations to deeply reflect on their workplace cultures and call for substantive changes to improve justice, equity, diversity, and inclusion.
During this time, a professional outreach collective formed by ESA, Ascent, Dudek, Placeworks, and Rincon Consultants, Inc., assessed the state of diversity and inclusion across the firms, finding that much still needed to change across the environmental and planning industry.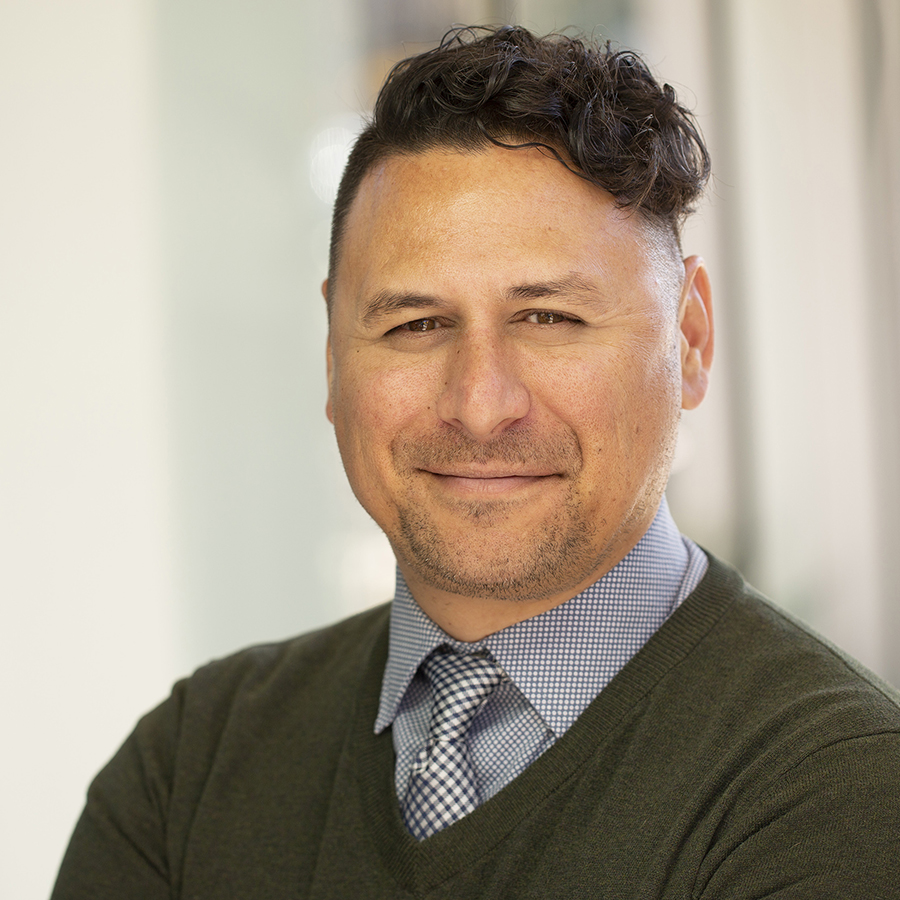 ---
"I believe that each of the firms jointly recognized that our industry is pretty far behind when it comes to being an inclusive industry."
Jonathan Teofilo, ESA Environmental Planning Program Manager
---
"I think that when you looked around and you took stock of what was happening, we recognized that it was not that diverse. We (the industry) had done pretty well when it comes to gender diversity, but as for traditionally underrepresented communities, we have a long way to go," shared Jonathan Teofilo, ESA Environmental Planning Program Manager and program coordinator for the project charrette.
Prompted by this realization, the collective called for actions and outreach programs to better recruit and support persons from disadvantaged communities—specifically Black, Indigenous, and People of Color (BIPOC) entering the industry—and formed the Environmental & Planning Diversity Internship Program (Program), kicking off with its first inaugural class in 2022.
Real Work with Real Clients
The Program is built around three main objectives: (1) provide BIPOC interns with industry work experience to support their careers in these fields, (2) extend networking opportunities with peers and professionals, and (3) create opportunities to work on meaningful and exciting projects. Current students and recent graduates first participate in the two-week charette, and then begin a summer-long internship at one of the five firms. Following the internship, some participants are hired full-time.
Throughout the charette portion of the program, interns collaborate on the project approach and study design, lead public outreach, and receive guidance from industry professionals.
This year, the charette was hosted at ESA's and Placeworks' offices in downtown Los Angeles, where students worked with the City of Huntington Park to consider the implementation of a community garden program.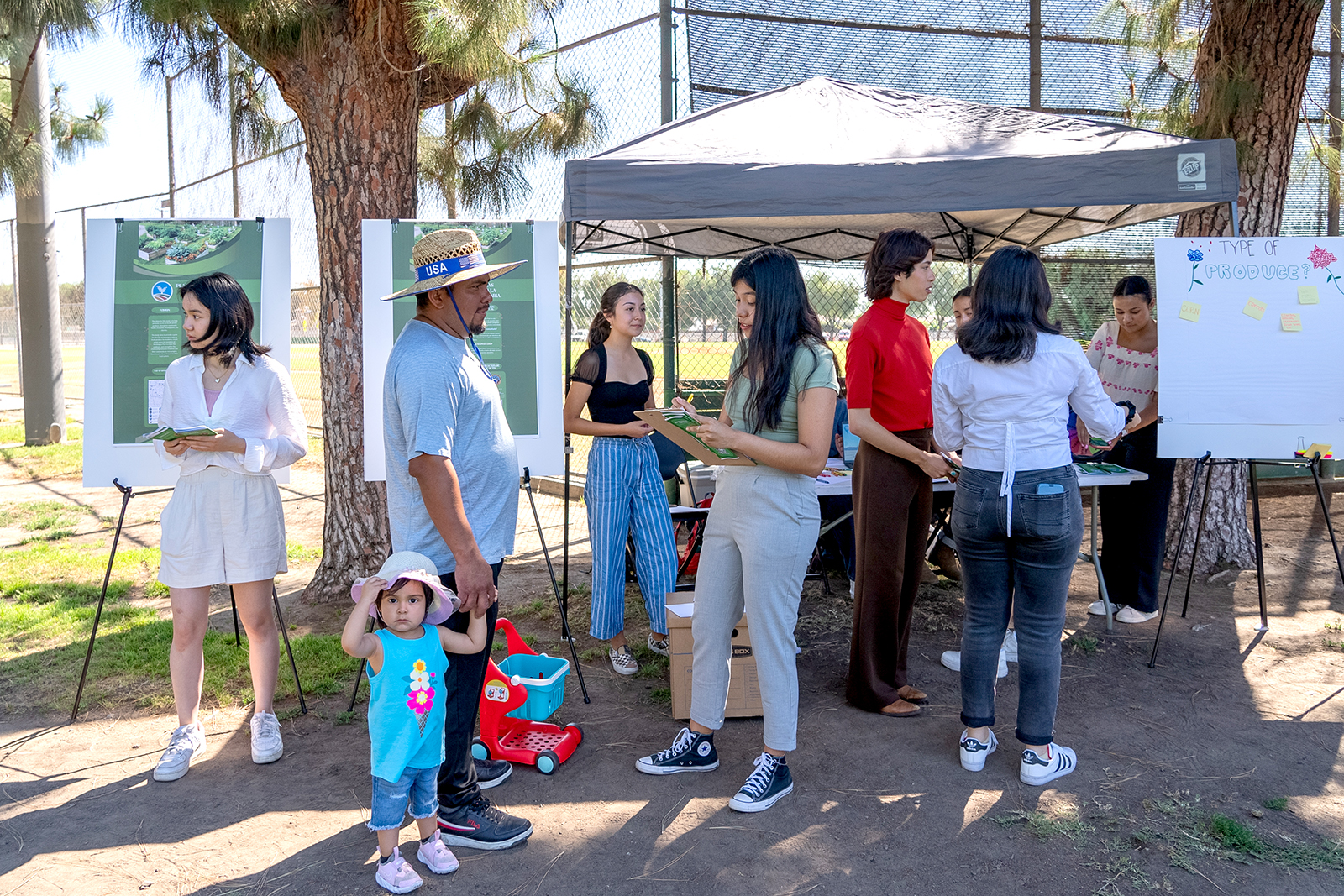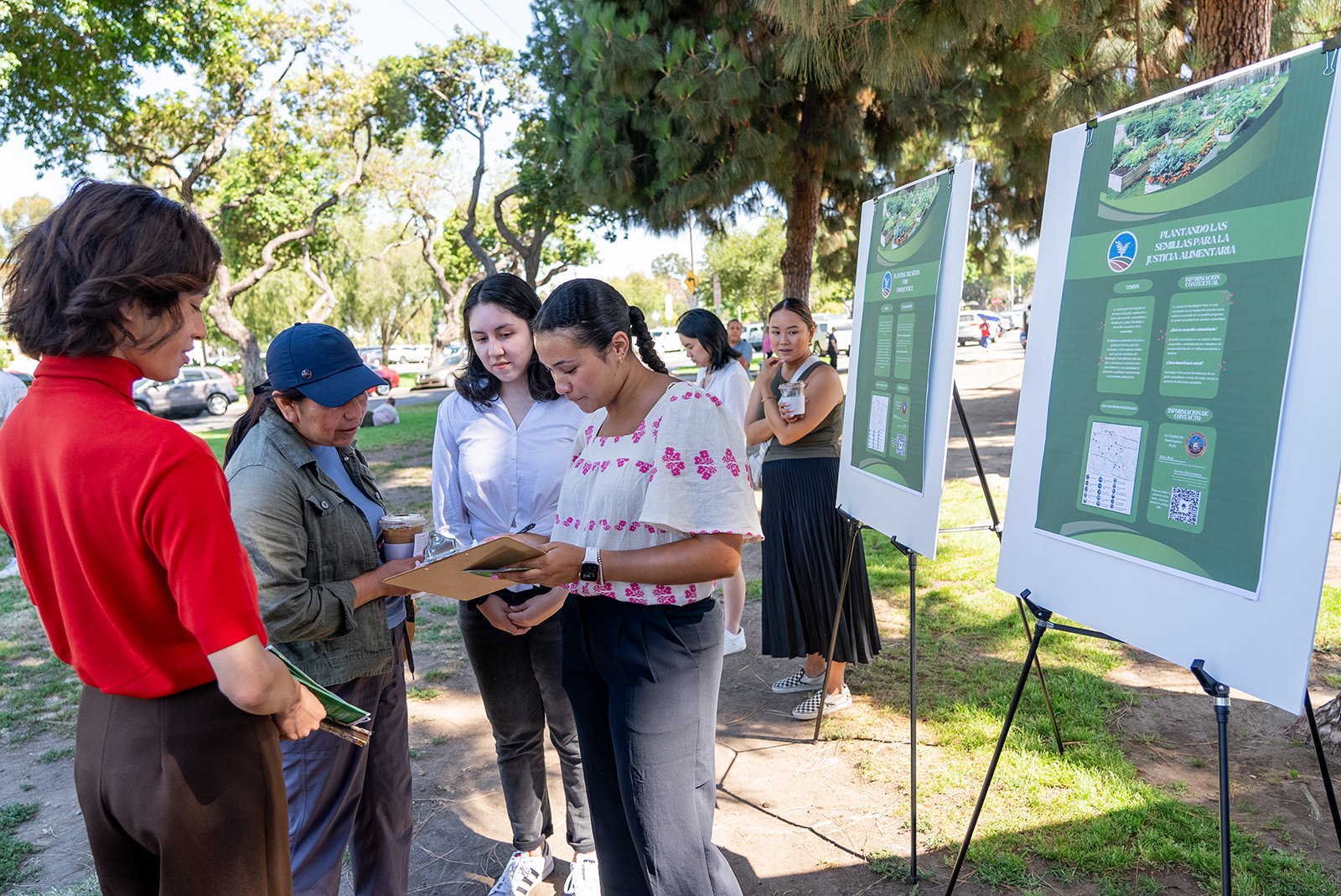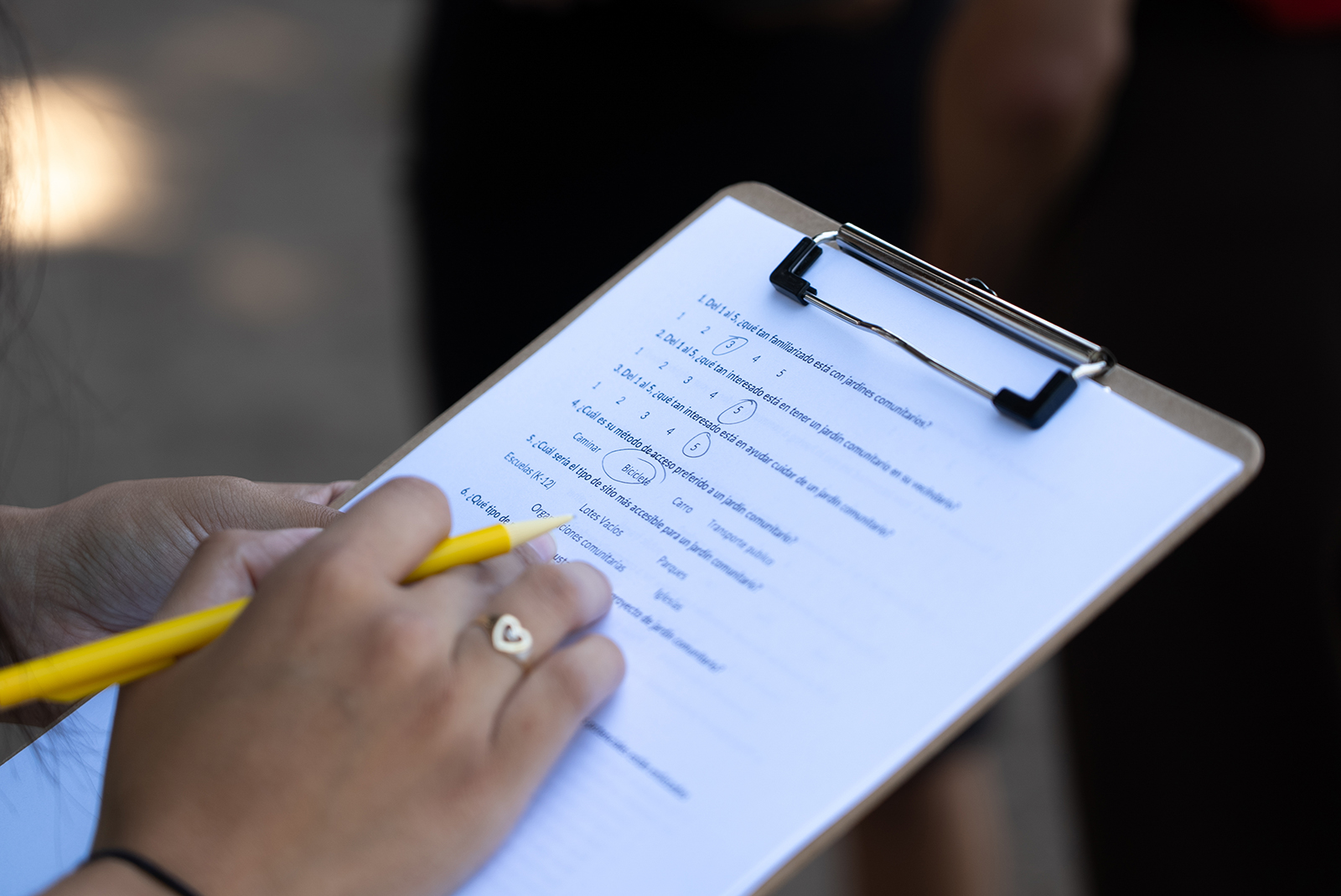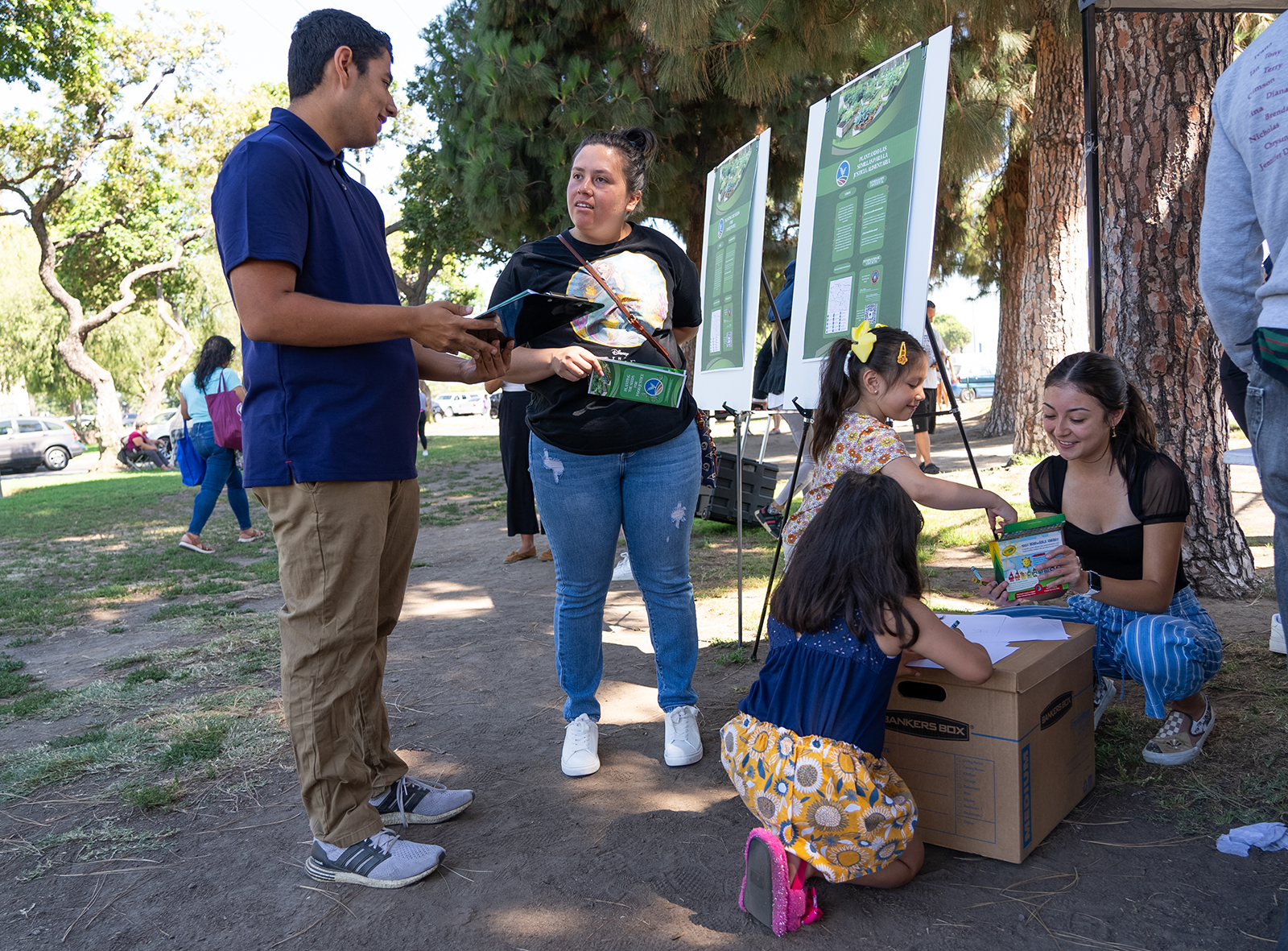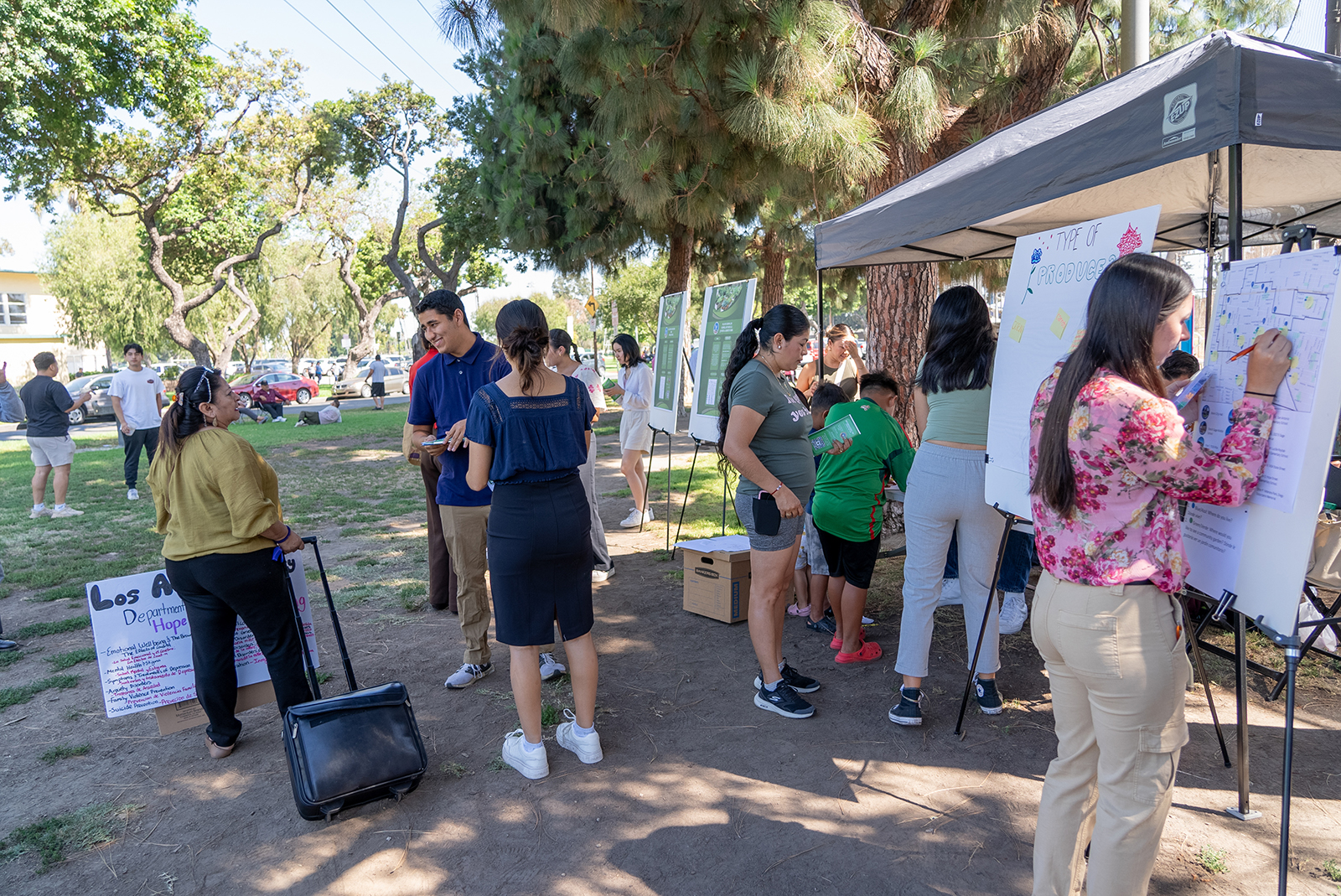 Interns lead a public outreach effort at a local farmer's market to assess resident interest and gather input concerning community gardens, which will inform their recommendations to the City.
The group performed site evaluations, led a feasibility and implementation study, and gathered data on community needs and access to affordable food options—ultimately producing a recommendations report, which was presented to the City's Health and Education Commission this July.
Following the charrette, many interns expressed that the experience of working with a real client was particularly valuable and validated their interests in the profession.
"I feel like all this work is very intentional," shared Marisa Rodriguez, an intern at Rincon Consultants, Inc. "We have an actual budget, and we're actually impacting people's lives. So, it's very intentional, very fulfilling."
Olivia Morris, who is interning at Placeworks, agrees. "This is my first real introduction to planning, and so to be able to be trusted with this big responsibility—it's made me really excited for my career and has definitely made me more confident in my abilities."
Representation Matters
An important element of the program is not just providing interns with professional experience, but also providing mentoring, emotional support, and guidance from professionals about their own personal experiences working as a BIPOC individual in the industry.
Throughout the charette, Missy Zepeda, an intern working with ESA's Energy group, found these candid discussions helped her relate and sometimes even mirrored her own experiences.
"It was just like a safe space where we could share about ourselves," she said. "It was nice to know that there are other people that are going through similar experiences. In a way, it was something that connected us all, and so I did really appreciate that space to be open with each other."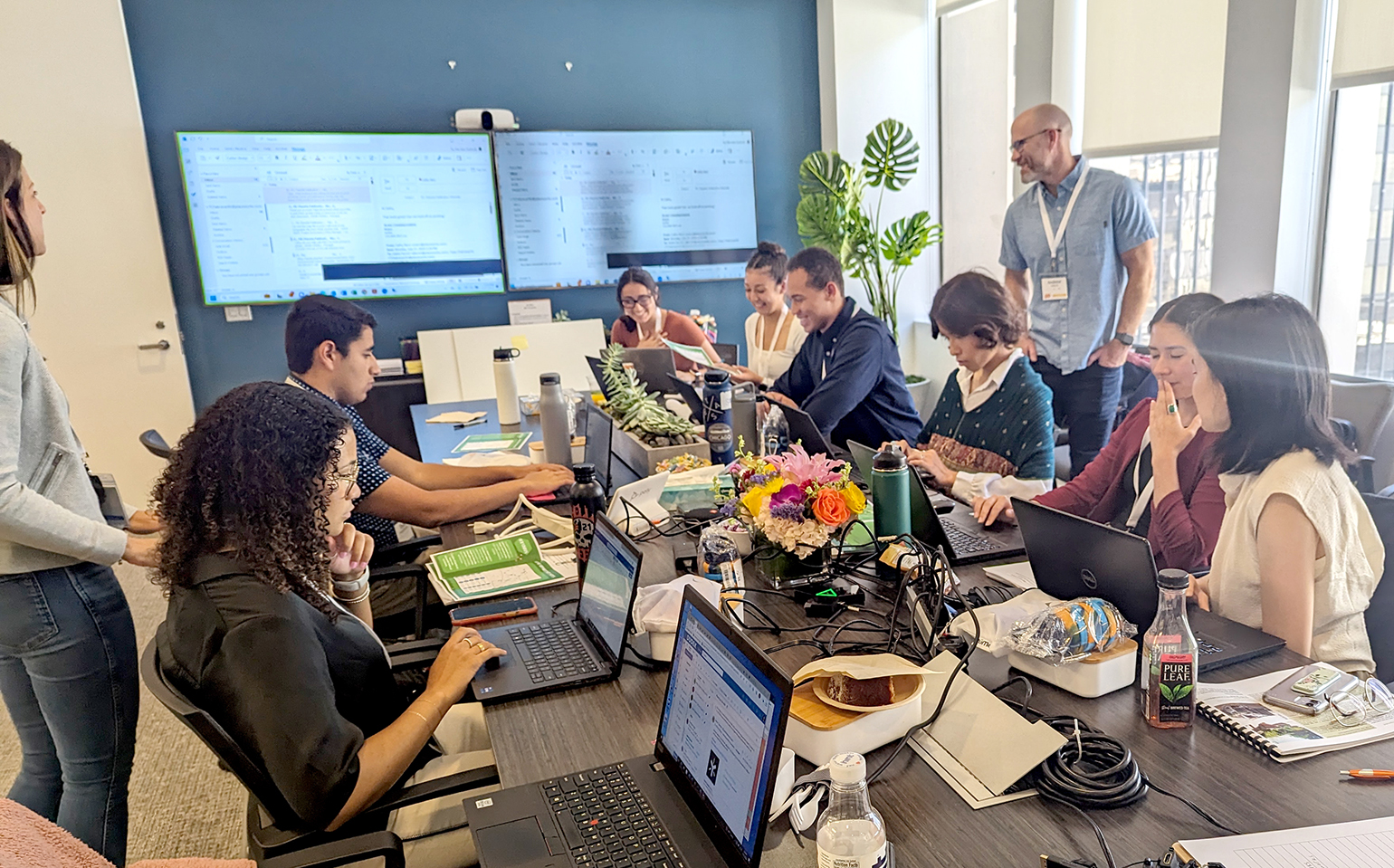 Professionals from Ascent, Dudek, Placeworks, and Rincon Consultants, Inc. offer guidance during the charettte in ESA's Los Angeles office.
As Jon Teofilo explains, these types of conversations are especially valuable to help students feel seen and heard, as they may struggle with feelings like imposter syndrome or a sense of belonging when they are first starting out in the workforce.
"People that are thinking about entering this profession, it's important that they are able to see faces like theirs in the profession," he said. "What it does is, it creates a corridor, and it says, 'okay, if you can be in this space, then I can be in this space. If you can be in leadership, then I can get a leadership position'—that representation is absolutely critical, and it's why we need a more diverse workforce in environmental consulting."
It's also what prompted Tamseel Mir to want to get involved with the program as one of the charette's program managers and share more about her own path in environmental consulting. Tamseel began her professional path as an intern at ESA, which led to a career spanning over two decades in project management and environmental review. She now works as Southern California Community Development Director, leading a team of more than 20 employee-owners.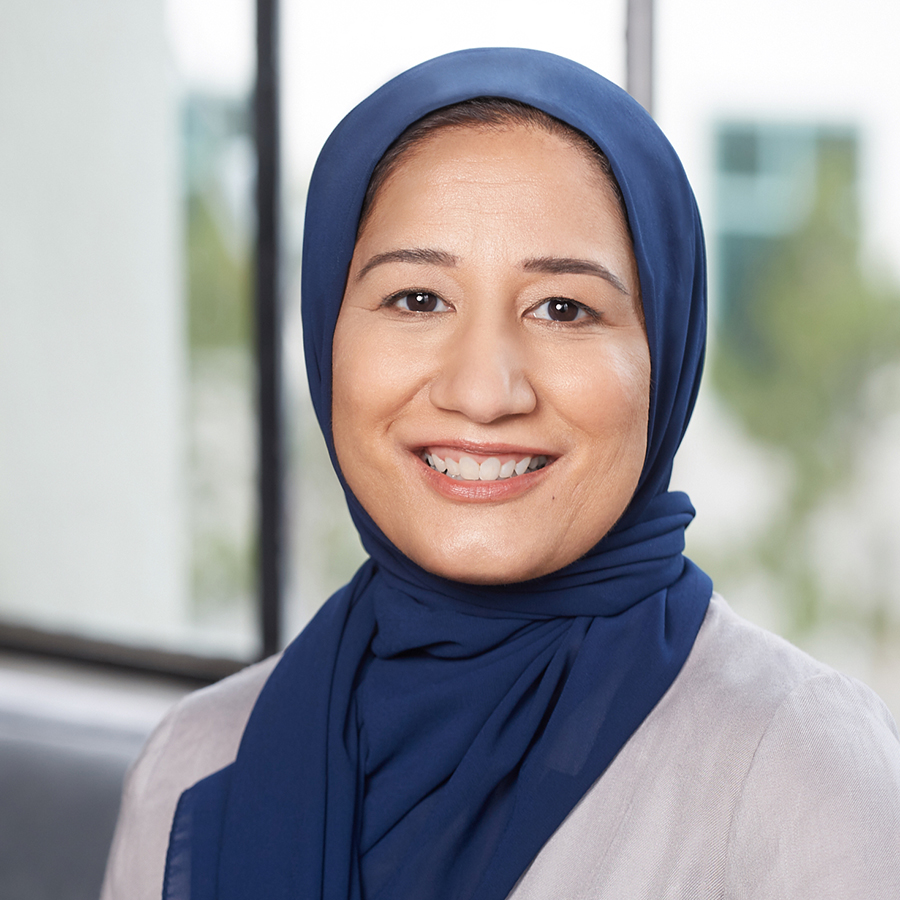 ---
"Our industry can benefit from greater diversity and genuine inclusion. The Environmental and Planning Diversity Internship Program is one step in the right direction because it says that diversity is welcome in environmental consulting."
Tamseel Mir, Community Development Director, Souther California
---
"The experience made me reflect on how my own internship experience helped shape my career and inspired me to do the same for others," she said. "The program recognizes that representation matters, and strives to bring students together from all backgrounds, which is very important to me."
The Future of the Industry
As Jon Teofilo explains, it's not just about increasing BIPOC representation in the office. A more diverse workforce is also crucial to better understanding the needs of the historically marginalized communities and address environmental injustices.
"We want people who are representative of the communities in which they serve in this profession," he said. "It's important, because how can you as professionals make informed decisions and prescribed remedies and build plans without having a voice of that community or the cultural understanding?"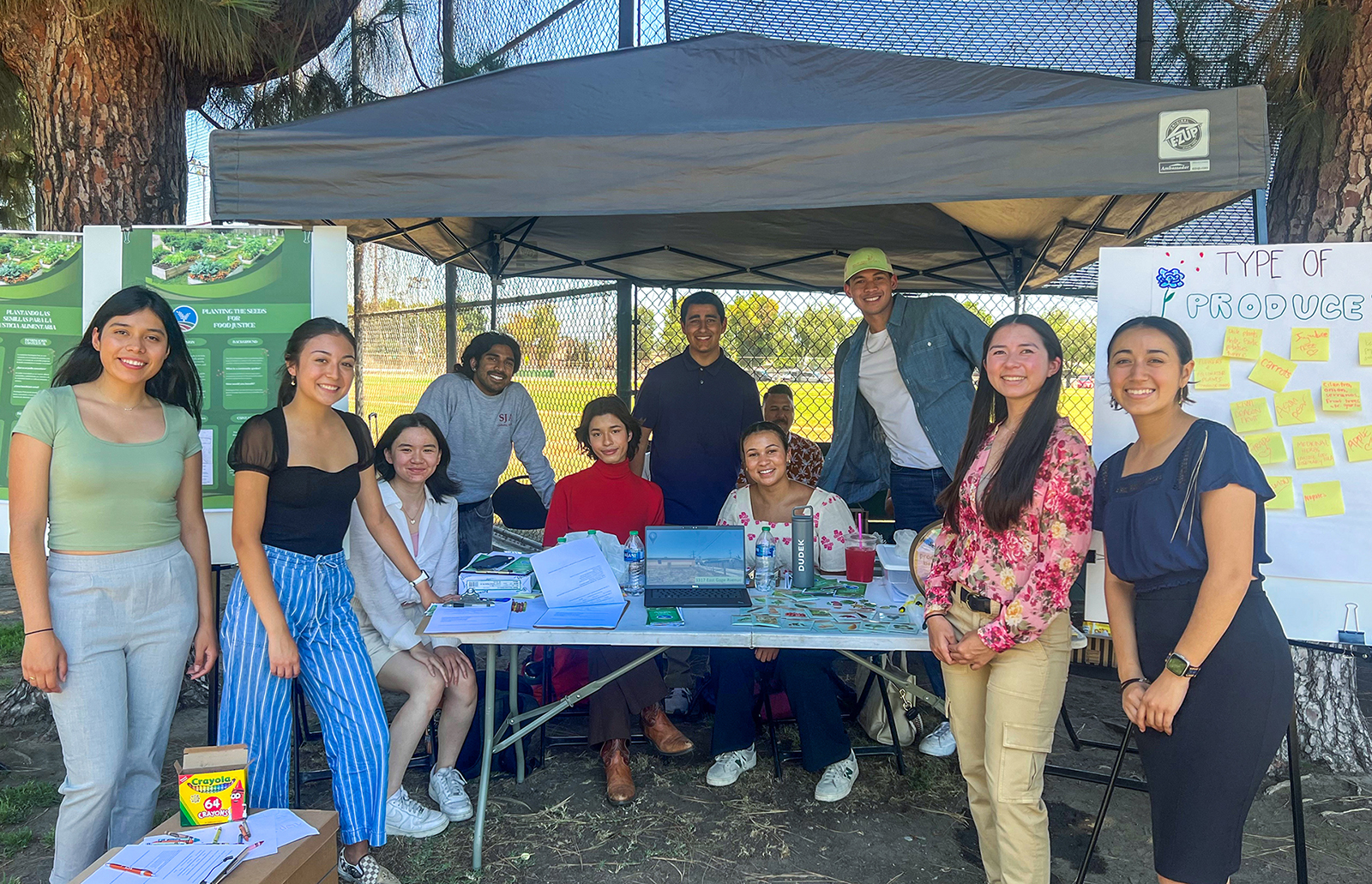 The 2023 intern class. From left, Maritza Vasquez, Missy Zepeda, Esther Duong, Marlen De Silva, Peter Truong, Tejas Chakravarthi, Olivia Morris, Matthias Berry, Natalie Kataoka, and Marisa Rodriguez
For now, the internship is just one step toward expanding diversity representation across the industry, which the collective hopes other firms can similarly adopt. At the Association of Environmental Professionals Conference this year, professionals from ESA and Ascent led a panel discussion detailing the program's implementation and how it can be replicated. Jon Teofilo was heartened by the positive response and sees it as a sign that firms are eager to take more actions toward increasing diversity.
"I think that what's most interesting about it is that everyone who says they want to be a part of it, they can be," he says. "You can see just how much talent is here and how much ability is here—there's so much skill that we can unlock and can bring into our organizations. And so, I just find that to be really, really exciting."
For more information about ESA's programs and how we are working toward justice, equity, diversity and inclusion at our firm, see our website: JEDI — Environmental Science Associates (esassoc.com).