On February 1, 2022, in a historic moment for climate resiliency efforts, the State of Florida announced it would award $404 million received in federal funding toward 113 resiliency projects statewide. The news comes just two months after Governor Ron DeSantis announced that the state would also provide $270 million for similar projects. Through the state's Resilient Florida Grant Program, this sum will provide nearly $700 million in funding for over 185 projects—the largest investment in resiliency in the state's history.
Coastal communities in Florida are grappling with increasing threats from climate change impacts such as flooding, sea-level rise, storm surge, and erosion. The funding enables local efforts to shore up critical infrastructure and pursue sustainable shoreline projects as a means to preserve shorelines and limit coastal impacts.
"Florida is one of the most vulnerable states in the country, and thus it has to begin the long and costly process of providing resiliency for its coastlines as climate change impacts increase over time," says Thomas Ries, ESA Vice President and Southeast Biological Services and Restoration Director. "This is the first committed funding toward resiliency projects for the state; however, more is certainly needed as cost estimates range from $76 billion to $100 billion to protect Florida's vulnerable coastal areas under moderate sea-level rise projections."
ESA assisted Pinellas County in securing funding for four nature-based shoreline protection projects by writing and submitting grants. Here is how the funding will be used and how ESA is facilitating living shoreline projects across Florida:
Treasure Bay Living Shoreline Project, Treasure Island – Awarded $1.45 million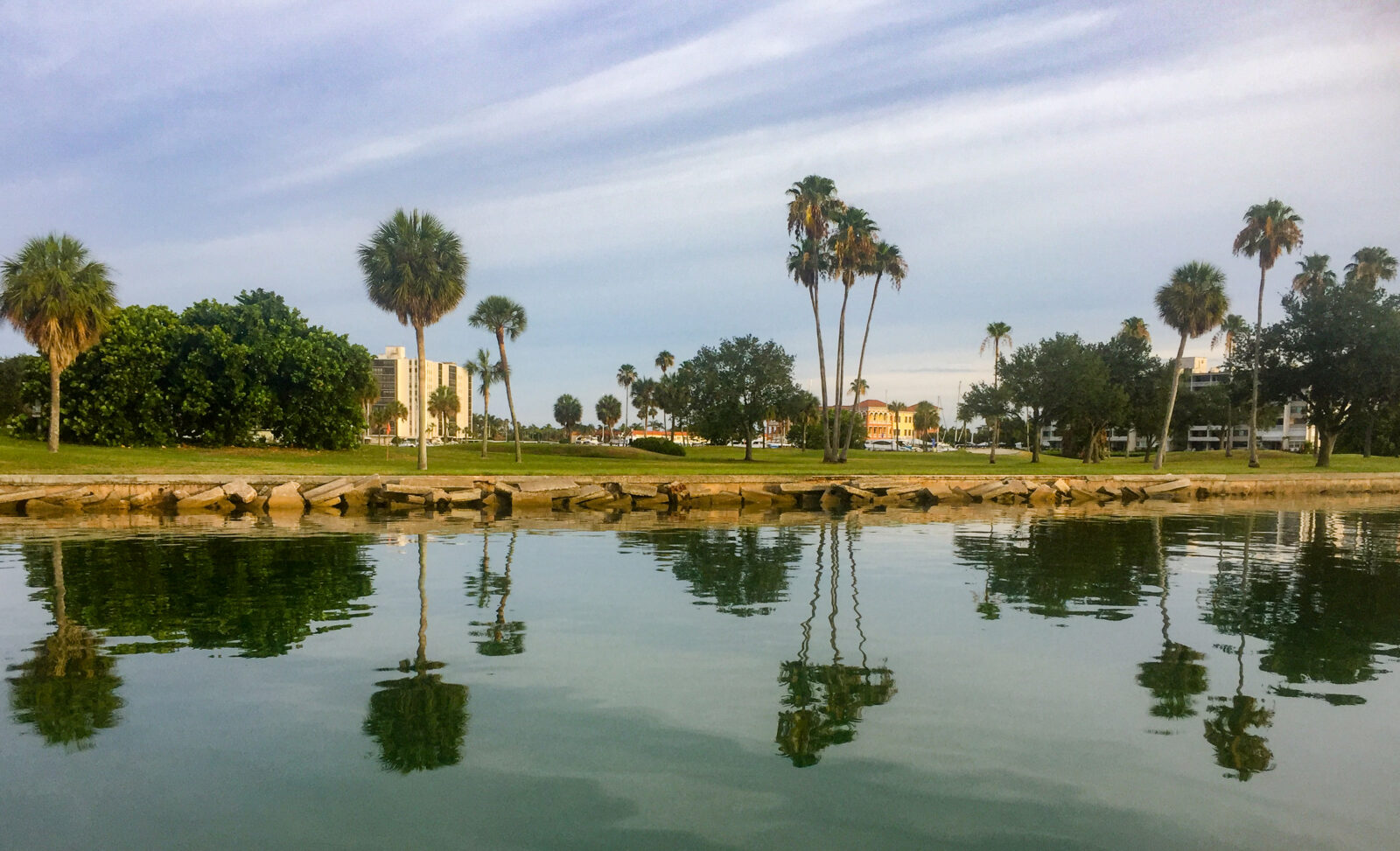 Over 3,500 feet of seawall lining the Treasure Bay Golf and Tennis facility is in need of major and costly repair. Prior to the latest state funding approval, ESA secured a grant from the Tampa Bay Environmental Restoration Fund (TBERF) for the design, permitting, and implementation of 500 feet of living shoreline where a section of the seawall will be removed.
The state's allocation of $1.45 million will be used to construct an entire seawall enhancement project, replacing 2,340 feet of seawall with a living shoreline and living seawall system, including oyster reefs, riprap, and aquatic vegetation restoration. The funding will also be used to enhance two stormwater ponds and improve water quality entering the aquatic preserve. ESA will be providing construction oversight of this effort.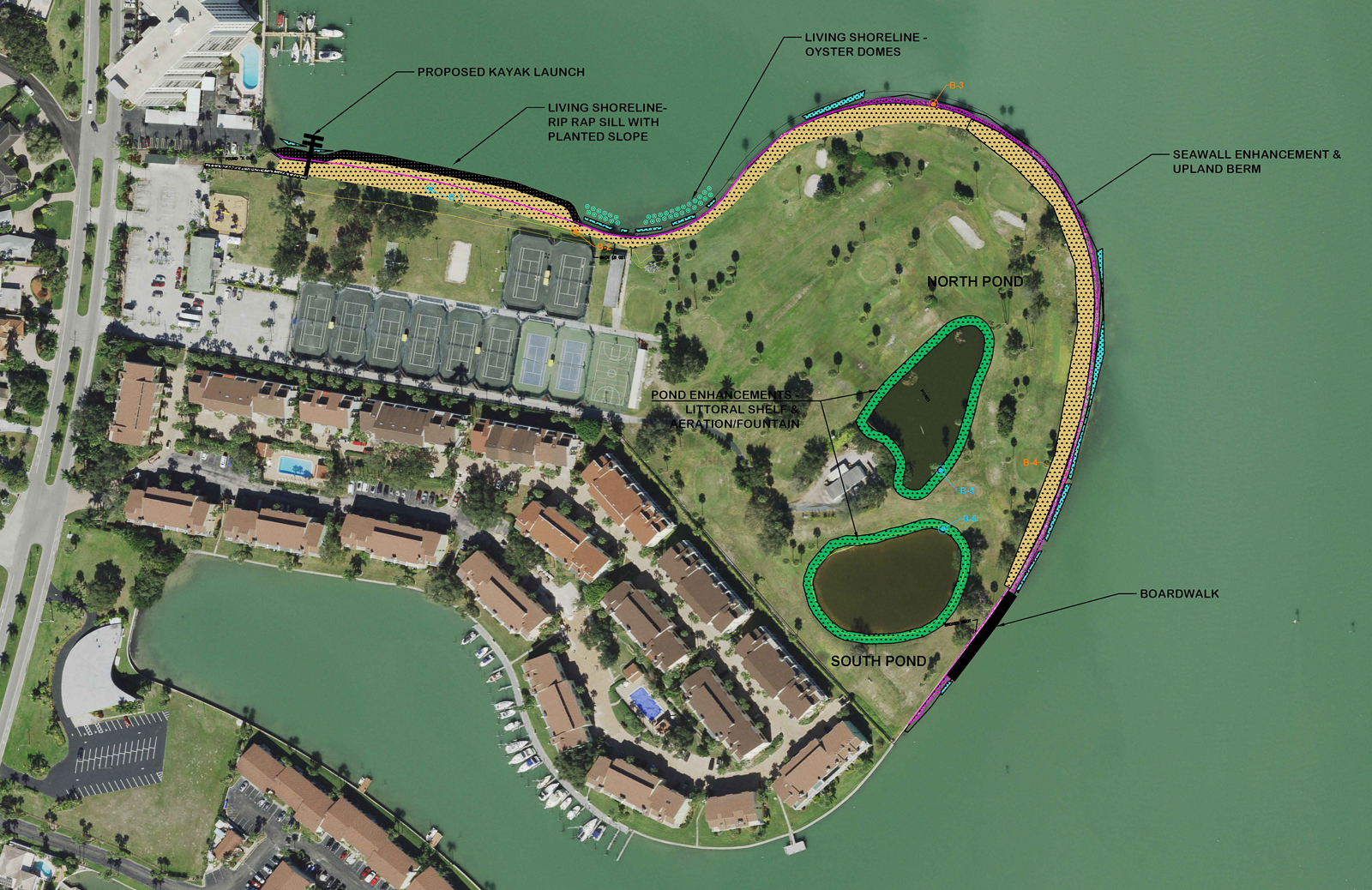 Philippe Park Living Shoreline Demonstration, Pinellas County – Awarded $500,000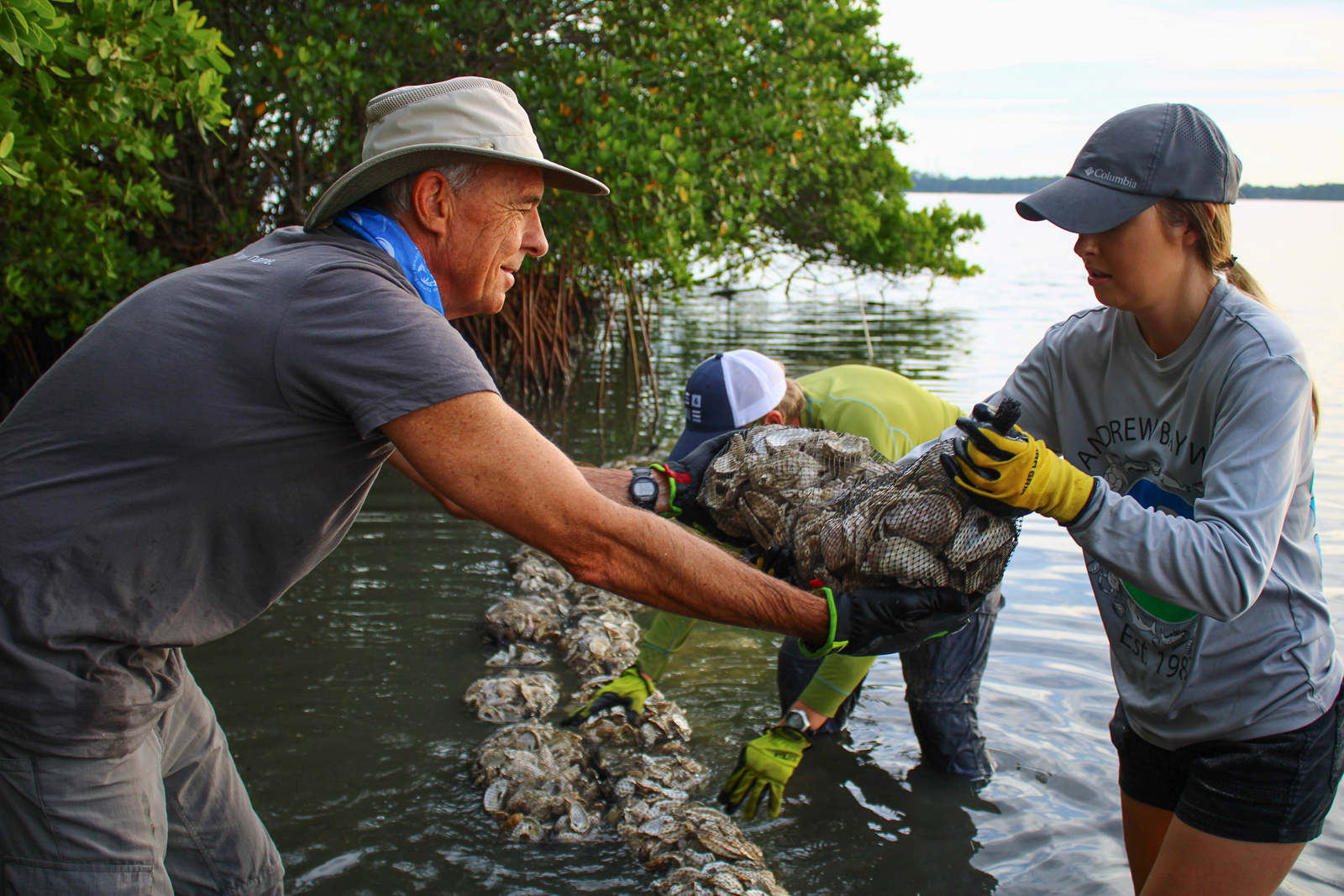 ESA secured both a local TBERF grant and a National Fish and Wildlife Foundation grant to design and permit a living shoreline along the southern coastline of the park, and to study wave impacts in collaboration with the University of South Florida.
The project has now received $500,000 of Resilient Florida Grant Program funds to restore the entire 4,000 linear feet of shoreline, an effort that consists of five unique and different enhancement designs. ESA is currently permitting these designs and will also assist Pinellas County with the construction oversight of these various shoreline treatments. The project's research will determine which designs observe the most ecological usage and which are efficient in wave energy dissipation.
Gulfport Marina Living Shoreline, Gulfport – Awarded $350,000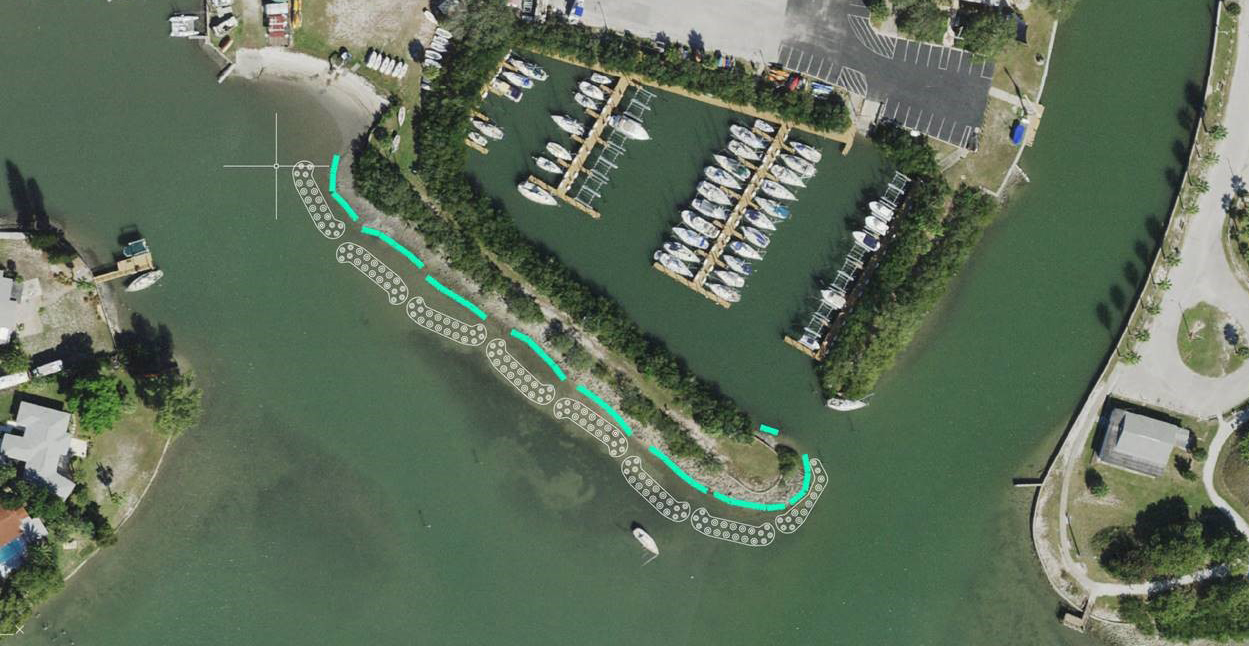 Gulfport Municipal Marina is protected by a narrow jetty that has been slowly eroding due to storm-driven waves. ESA helped the City of Gulfport apply for the Resilient Florida grant to implement a nature-based shoreline protection plan for their jetty protection plan which ESA also designed.
Maximo Park Living Shoreline Project, St. Petersburg – Awarded $300,000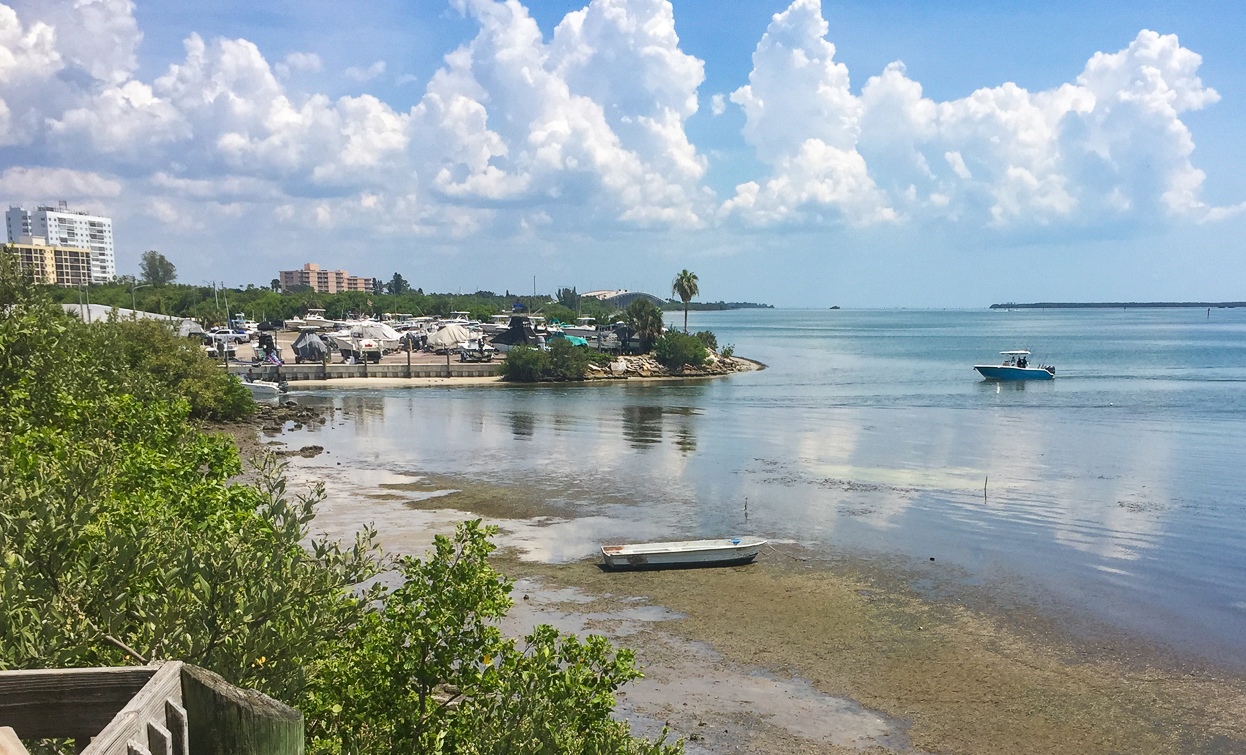 This living shoreline project is the only project to receive state funding in Pinellas County. Maximo Park is a public waterfront managed by the City of St. Petersburg—it is an archaeologically rich site that was once home to native tribes and has resources that must be protected. The southern shoreline has experienced significant erosion due to wind-driven waves, tides, storm events, and sea-level rise, which are unearthing historic artifacts. To protect this shoreline and the park's facilities, ESA secured a local Tampa Bay Estuary Program grant from the TBERF to design, permit, and implement nature-based shoreline stabilization features. The project involves many phases: (1) install oyster domes and bags, (2) establish coastal dunes and plant native estuarine vegetation, (3) remove concrete debris and regrade the shoreline to former natural conditions, and (4) install a trench drain to collect and divert untreated stormwater. ESA worked with the City of St. Petersburg to pursue the newly created Resilient Florida Grant Program to fund the full implementation of these living shoreline features. This funding will allow the city to implement all phases at once. ESA will be assisting with the construction oversight.
A Legacy of Coastal Resilience Consulting
ESA's environmental consultants are experts in coastal resiliency planning, coastal engineering modeling, and regulatory permitting. The firm has successfully implemented over 50 such projects in Florida and is currently overseeing 14 living shoreline sites across the state. ESA staff are well informed of competitive grant and funding opportunities for our clients and can assist in writing and submitting applications for projects. For more information, please contact Thomas Ries and Bryan Flynn.