The ESA Drone Program has recently added three 5-band precision sensors to our fleet, which will support a range of natural resource assessments. With this gimbal technology mounted on our DJI Inspire 2 drones, we can collect visual band (RGB) imagery as well as vegetation indices with near infrared (NIR) spectroscopy (or RedEdge), including normalized difference vegetation index (NDVI), a method of determining whether an area contains live green vegetation.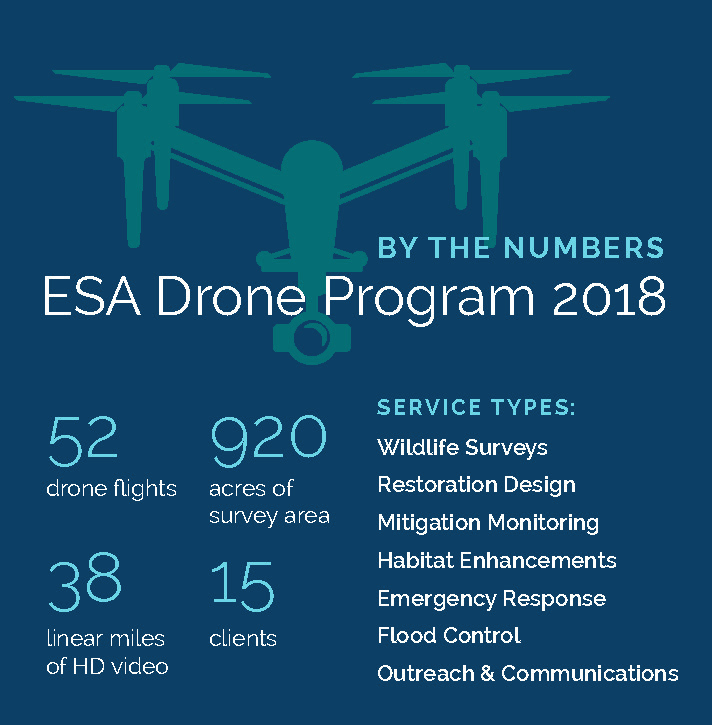 The digital surface model (DSM) is another product captured from our drone surveys in combination with ground control points captured with real-time kinematic positioning. With the DSM, we are able to capture high-resolution elevation information of vegetation and pair this with the multi-spectral data to yield highly accurate canopy structure, land cover, and habitat condition derivative products.
We have been using these new tools to help differentiate vegetation types and vegetative health of plants based on their spectral characteristics. In California, Oregon, Washington, and Florida, this added technology will supplement our coastal and upland restoration and mitigation monitoring efforts for a range of clients. With continually evolving remote sensing techniques at our fingertips, our analysts can efficiently process the multi-band imagery and segment pixels into objects based on spectral, textural, and other characteristics to aid in classifying features on the landscape.
We are constantly exploring new ways to help our clients reduce costs as well as improving the quality and resolution of data products we provide. To achieve this, we are experimenting with using a form of artificial intelligence (AI): machine-learning algorithms to help automate the process of identifying and mapping vegetation types on the landscape. The use of these combined technologies provides an array of new opportunities for ESA and partners to help monitor changes that occur on the landscape. To learn more about the use of drone-based multispectral sensors for your next project, contact us at UASDroneservices@esassoc.com