With around 90 percent of global consumer goods being shipped by sea, shipping is undoubtedly one of the most important modes of global delivery of commodities. But that comes with an environmental downside, as maritime shipping also accounts for a large portion of global greenhouse gas (GHG) emissions—a problem that is growing. In a 2020 study of 2018 carbon emissions, The International Maritime Organization (IMO) found that the global shipping industry accounts for 740 million tons of carbon dioxide. That means 2.89 percent of all GHG emissions around the world come from the shipping industry, which is more than the entire GHG emissions of the airline industry. And if nothing changes, some scientists project the demand for global shipping will likely result in an increase to around 17% of global carbon emissions by 2050.
The good news is that the industry recognizes the need to change. Knowing the global impact of shipping helps provide a baseline understanding of the potential to reduce GHG emissions. The Global Maritime Forum is calling for an aggressive approach to reducing the industry's carbon footprint with a goal to completely decarbonize by 2050. And at the latest UN climate conference in Egypt last November, 40 major announcements related to the Green Shipping Challenge were made by countries, ports, and companies about taking action steps toward this goal. Even one of the biggest names in shipping, Maersk, is setting a goal for net zero emissions by 2040. But the question remains: Where do we start?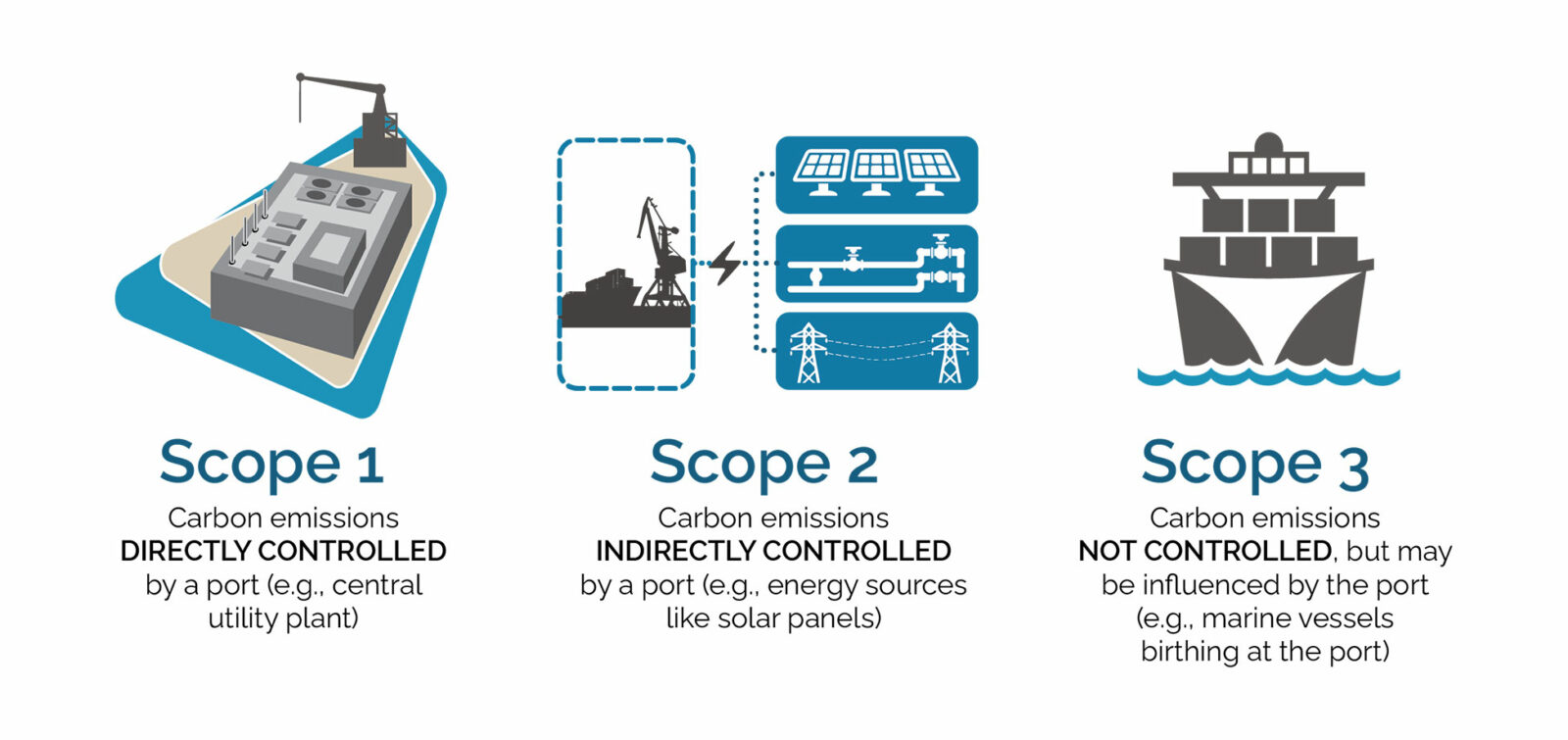 As with many state and regional governments, ports are increasingly establishing GHG goals and objectives through climate action plans (CAPs), which are planning documents that quantify a baseline of emissions, set reduction targets, and lay out strategies and actions for reaching those targets. ESA is helping the Port of Seattle to implement their CAP, working with the Maritime Division to develop a range of fleet electrification scenarios that consider future power needs and site capacity restraints.
Ports are similar to cities in that they generate emissions from their own operations (known as Scope 1 and Scope 2 sources; see figure below), but typically the largest impacts are from sources that are not owned or directly controlled by the port, such as marine vessels berthing at the port and tenants who operate on port property, but independently. It's one thing to establish robust data management systems for Scope 1 and Scope 2 sources, but incorporating Scope 3 sources into baseline inventories, targets, and reduction strategies remains a major challenge. Developing truly effective CAPs requires robust partnerships with these customers, third-party operators, and other port tenants that fall under Scope 3.
As such, a key component to ESA's approach is to begin by empowering the planning process with high-quality data tools. Doing that starts with modernizing ports' data management systems.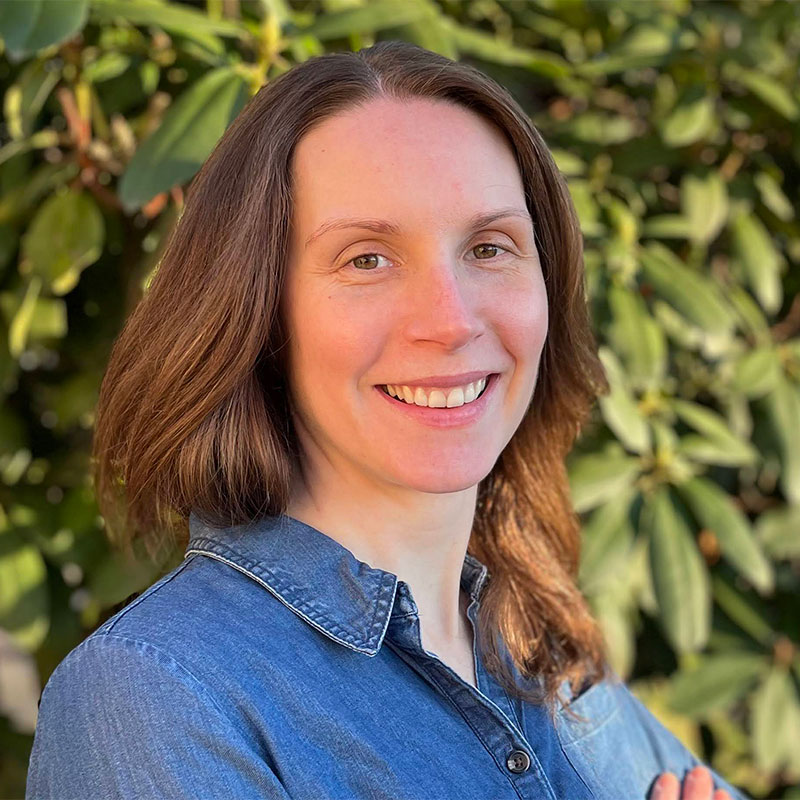 ---
"Using human-centered design, ESA's data technology team can work with ports to understand who works with data related to greenhouse gas emissions, identify inefficiencies and gaps in data collection and tracking, and help ports get to the next level of data maturity, where data can be used for scenario analyses and automated analytics and inform decision-making."
Liz Christeleit, Technology Services Lead
---
The Existing Challenge of Data Management
"If you don't have a characterization of your current greenhouse gas footprint, it's going to be hard to reduce it in an effective way," says Tim Sturtz, ESA's principal air quality specialist. "You have to have your GHG inventory in place and data management system in place so you can design, develop, and track mitigation strategies that you're implementing."
One huge challenge is that tracking systems that measure some of the relevant metrics, like fuel use, equipment activity, and fleet turnover, can be scattered and imperfect. Ports often work in an analog format, relying on employees to input data using dated methods. It is common to track data in Excel spreadsheets that aren't linked into a larger system and lack a consistent structure, making rolling up data across multiple programs impossible. The result is the data that is collected cannot be readily used to measure impact. Thus, ports often don't have good baseline information to even know where to start when setting targets that could lead to changes, with a goal of decarbonization.
For example, an airport might track its natural gas bills in one form in the finance office. But to track diesel usage, employees may walk up to diesel tanks and write down fuel levels to transcribe into a spreadsheet at a later time. As electric vehicle chargers are installed at ports, the electricity usage may be tracked in a third disconnected system. Without a centralized data management solution, there is no systematic way to know what each of those pieces means to the larger question of GHG emissions or to understand the holistic view of progress toward targets.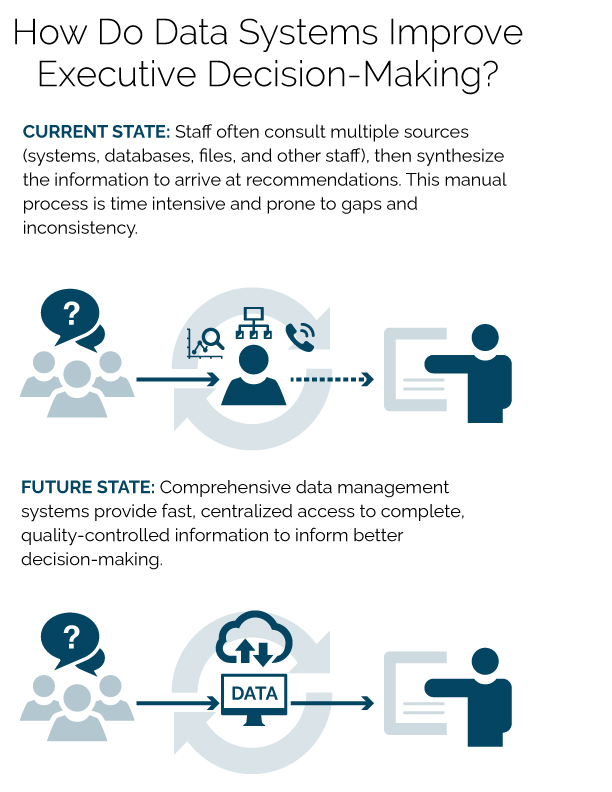 The solution is "creating a data management roadmap that considers the people, data inputs, and reporting needs for an organization," as Liz Christeleit, ESA data technology team lead, puts it. "Using human-centered design, ESA's data technology team can work with ports to understand who works with data related to greenhouse gas emissions, identify inefficiencies and gaps in data collection and tracking, and help ports get to the next level of data maturity, where data can be used for scenario analyses and automated analytics and inform decision-making."
Data Technology Solutions
With a clear technology roadmap in hand, ESA's data technology team works with organizations such as ports to create systems that integrate data from disparate sources, like sensor data and data available via APIs (i.e., Application Programming Interfaces), with user-friendly workflows for data entry that seamlessly syncs all data collected. The moment someone in the engineering departments hits "submit," that data is sent to a centralized system where all the relevant offices have the information and data. The finance department has what they need to make fuel purchase decisions and the sustainability office has the data to show progress toward decarbonization goals. Taken further, the data can be processed through emissions models, and GHG emissions from those data can be available in near real-time.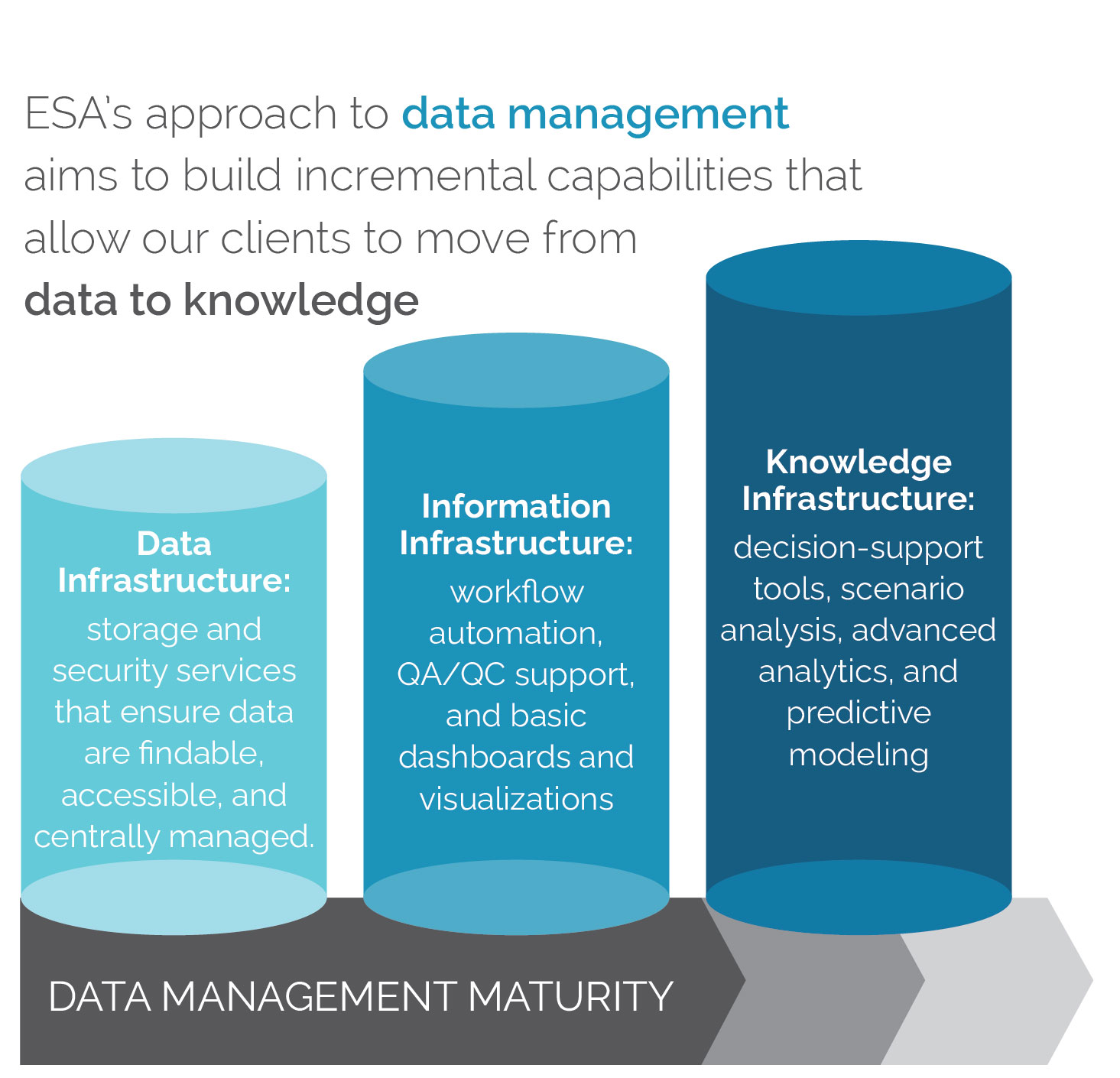 While understanding and improving data and systems is essential to streamlining processes and helping ports achieve their decarbonization goals, equipping staff members and decision-makers at ports with high-quality, relevant data and tools is the ultimate goal. "Our overall process is very people-focused," says Laura Nickelhoff, ESA Technology Services Lead. "Understanding people and their business processes—like how someone in the field captures the data, and someone in the office consumes that data—is integral to how we design and build software solutions. We want to bring systems to people where they already are, not build systems that people don't get value out of."
ESA is excited to launch partnerships to help the Port of Vancouver in Washington and the Port of Oakland in California on their data management systems. Both ports have ambitious CAPs that envision great potential to reduce their regional GHG emissions, and the ports are an important place to help realize those goals. For more information about our data technology capabilities, please reach out to Laura Nickelhoff or Liz Christeleit. If you are interested to see how our team is working with ports and their CAPs, please email Jeff Caton.